Preparatory Department Sponsors District, State Winners
May 1, 2012
Josiah Dame and Makenna Herl, students in OBU's Preparatory Department, earned an opportunity to participate in the Oklahoma Federation of Music Clubs state competition at Southern Nazarene University on April 29. Both received Honorable Mention awards in voice divisions.
Dame and Herl were among eight OBU Preparatory Department students entered in the Oklahoma Federation of Music Clubs District Auditions held at OBU on Saturday, April 14.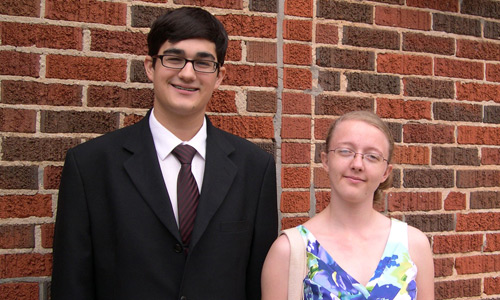 Dame participated in the Senior I Voice Division. The son of Andre and Theresa Dame, he is a junior at Shawnee High School. Herl was in the Senior III Voice Division. The daughter of Faye Herl and Richard Salmons, she is a senior at Meeker High School. Both Dame and Herl are students of Norma Partridge, professor emerita of music at OBU.
Michaela Ramsey, piano student of Rachel Schmoyer, won second alternate in her division at the district level. Other piano students participating in the district auditions from Schmoyer's studio included Connor McGann, Emma Poyer, Kaylee Ragon, Madeline Smith and Alexis Walker.
Oklahoma Federation of Music Clubs (OFMC) is an affiliate of the National Federation of Music Clubs (NFMC). The NFMC and its affiliates are non-profit organizations dedicated to music education and the promotion of creative and performing arts in the United States. Oklahoma has 2,199 members. Competitions by the organizations cover a wide range of categories including voice, instrumental music, composition, dance, conducting, handicapped and visually impaired and music therapy. NFMC also sponsors more than 40 annual and biennial awards for students desiring to attend Summer Music Centers.
OBU's Music Preparatory Department is directed by Conchita Hansford, assistant professor of music. The Preparatory Department offers musical opportunities to students, ages birth through adult, from Shawnee and surrounding areas. Under the umbrella of the Warren M. Angell College of Fine Arts, the department offers private piano, voice, guitar, string, wind and percussion instrument instruction, as well as Keyboard Readiness, Keyboard Concepts, Art classes and Kindermusik classes for babies and preschoolers. A choral experience is available through the Young Singers of Central Oklahoma. The choirs included are Shawnee Honor Choir, Concert Choir and Discovery Singers.
For more information about OBU's Music Preparatory Department, visit the Prep Department webpage, call (405) 585-4329 or email prep@okbu.edu.