Oxford Recognized for Photography Achievement
May 2, 2012
Nick Oxford, an OBU senior from Arvada, Colo., was named student photographer of the year during the Great Plains Journalism Awards, which represents the best in journalism among all colleges and universities in the Midwest.
The Tulsa Press Club announced the winners of the 2012 Great Plains Journalism Awards during a conference Friday, April 27, at the historic Mayo Hotel in downtown Tulsa, Okla. One of the most prestigious journalism awards in mid-America, the Great Plains drew hundreds of entries from an eight-state region, said Ashley Parrish, the awards committee chair. A blue-ribbon panel of esteemed journalists, including three Pulitzer Prize winners, judged all of the entries.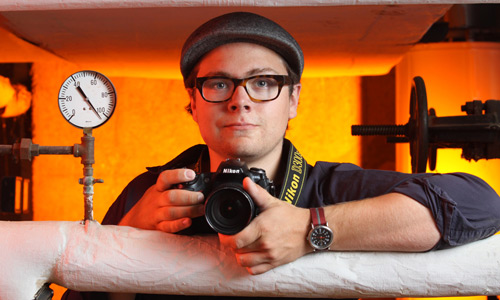 "It was a true honor for me to receive the Great Plains Student Photographer of the Year award on Friday," Oxford said. "I know that there were plenty of great photographers that entered their work, so I wasn't expecting it at all. Photojournalism has always been my true passion, and it's not all about getting an award but it's always nice to see your work recognized."
Oxford also was named a finalist in the Sports Feature Photography and Portrait Photography categories which competed against all newspapers, not only student presses.
"Judges found his work to be superior to some professional photographers who have been working for the Daily Oklahoman, or Tulsa World, or This Land for years," said Holly Easttom, assistant professor of journalism at OBU.
Oxford serves as photographer for The Bison, OBU's student newspaper, and Yahnseh, OBU's yearbook. He produces News 30, OBU's weekly live newscast. Oxford received the Electronic Media Outstanding Senior Award during OBU's Festival Media Arts on Thursday, April 26.
"For me, Nick really embodies what we mean by 'converged media,'" Easttom said. "He is invaluable to the Bison every week; not only does he take outstanding photos, but he writes in a wonderful narrative voice that illustrates the diversity of his journalistic talent. … He is what we had in mind when we created a converged curriculum -- a student who took on all forms of media."
As a freshman, Oxford was a shy, unassuming freshman who preferred working alone to the classroom setting, Easttom recalled. As a photographer, he took good photos, but they lacked the unique spark that makes a photo exceptional.
"Since that day, I have watched Nick evolve into a confident young professional who works well on a staff and as a leader," Easttom said. "As for his work, each photo is expressive, unique and stellar. When I see a picture he has taken, I can immediately identify his 'voice' behind the image, but it doesn't intrude on the subject matter. He is a conduit for the story … and he tells the story in a way that makes it poignant."
In addition to his coursework and campus involvement, Oxford has worked as a freelance photographer for The New York Times since September. He called the national photo editor at The Times last fall to see if they needed any freelancers in Oklahoma. The editor liked his work and signed him up. Most recently he has covered the Oklahoma primaries, the tragic shootings in Tulsa in April and the recent tornado in Woodward, Okla.
"It's really been a true privilege getting to occasionally work for a renowned national organization such as The Times," Oxford said. "Through my work for them, I've gotten to experience and do things I would not have been able to otherwise. Overall I think it's been a fantastic experience for me that will really help me with my future ambitions."
Oxford will graduate from OBU on May 11 with a bachelor's degree in electronic media. Following Commencement, he plans to work as a freelance photojournalist in Tulsa.
To see more of Oxford's work for The New York Times, visit the following links:
http://www.nytimes.com/2012/04/17/us/in-woodward-oklahoma-surviving-a-twister-twice-in-65-years.html
http://www.nytimes.com/2012/04/12/us/tulsa-shootings-came-in-struggling-neighborhoods.html?pagewanted=all
http://www.nytimes.com/2012/04/14/us/3-tulsa-strangers-familiar-to-struggle-met-same-fate.html