OBU Dedicates Hobbs College Suite
May 11, 2012
Members of the OBU community participated in a ribbon cutting and dedication for the Herschel H. Hobbs College of Theology and Ministry on Friday, May 11.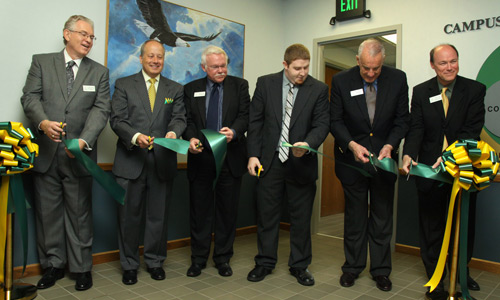 Those participating in the ribbon cutting included (from left) Dr. Anthony Jordan, executive director of the Baptist General Convention of Oklahoma; Dr. David W. Whitlock, OBU president; Dr. Mark McClellan, dean of the Hobbs College of Theology and Ministry; Jeremiah Custar, a senior applied ministry: youth major from Ardmore, Okla.; Dr. Reagan Bradford, chair, OBU Board of Trustees; and Randy Smith, executive vice president for business and administrative services.
The university recently renovated the second floor of Montgomery Hall -- including professors' offices and a conference room -- to house the faculty and functions of the College. The renovation was made possible by the Hammons Charitable Foundation and the Arkansas Baptist Foundation.
OBU's College of Theology and Ministry is named for Baptist statesman Herschel H. Hobbs, who was pastor of First Baptist Church of Oklahoma City from 1949-72. He served two terms as president of the Southern Baptist Convention and two terms as chair of the OBU board of trustees.
The Hobbs College encompasses six distinct divisions in theology and ministry disciplines: departments of biblical and theological studies, Christian and cross-cultural ministry, and philosophy; the re-defined Joe L. Ingram School of Christian Studies; the Avery T. Willis Center for Global Outreach; and the Don R. Kammerdiener Center for Missiological Research.