OBU Breaks Ground for Student Residential Village
May 10, 2012
Members of the OBU community celebrated groundbreaking for a new student residential village Thursday, May 10, during an afternoon ceremony. The total complex will include 204 new apartment units, 782 beds and 20 laundry facility/safe rooms on Bison Hill.
OBU trustees, students, faculty, staff and Shawnee community representatives gathered for the ceremony at the site of the planned buildings, north of OBU's MacArthur Apartments on the north side of MacArthur Street.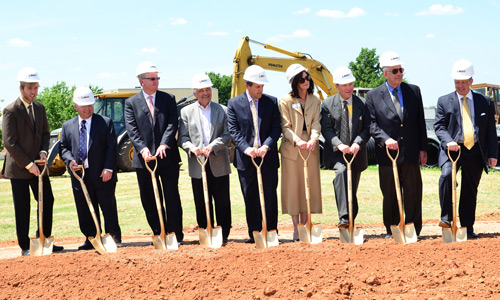 "As we turn dirt today, we're carrying forward a tradition that has served us well for more than a century," said OBU President David W. Whitlock. "Students live best when they are living in a learning community, and an important part of the liberal arts educational model is living with and among other scholars. This kind of facility enables us to carry forth our tradition as we have for over 102 years."
"It's not about brick and mortar," Dr. Whitlock said. "It's about investing in the lives of young people who are going to go out and change the world."
When completed, the proposed housing complex will include six large apartment buildings, one small apartment building and a centrally located clubhouse building attached to another large apartment building. The initial phase of the village construction includes two housing structures which feature contemporary apartment units to accommodate 194 students.
Each apartment unit will feature four individual bedrooms, two bathrooms and an open floor plan including a kitchen, dining area and living area. Some of the apartments will include a washer and dryer, while others will share laundry facilities on the first floor which also double as safe rooms to be used in severe weather threats.
OBU hired CJC Architects Inc., a Tulsa firm which has worked with the University on several major projects, to plan the construction of the complex. Occupancy of the first phase of the apartments is projected for the fall 2013 semester.
Nearly 100 individuals attended the groundbreaking activities. Representatives from the student body, the local community, OBU trustees, faculty, staff, and architect and construction representatives took turns shoveling dirt at the site.
The program included a welcome from Marty O'Gwynn, associate vice president for university advancement; an invocation by Dr. Reagan Bradford, chairman of the OBU Board of Trustees; and a project review offered by Randy Smith, executive vice president for business and administrative services. Comments about the impact of the facility on the campus and student body were offered by Brandon Skaggs, dean of students, and Neal Ellis, Student Government Association president who is a junior applied communication major from Midlothian, Texas. Dr. Todd Fisher, an OBU trustee and pastor of Immanuel Baptist Church in Shawnee, offered the prayer of commitment.