Lady Bison Capture NAIA Outdoor Title
May 29, 2012
Oklahoma Baptist ended a three-year streak of runner-up finishes and took home its first NAIA Women's Outdoor Track and Field Championship Saturday in Marion, Ind.
"This feels really great," said OBU senior Verone Chambers. "We were second three years in a row and my sophomore year we lost by one point. It's my senior year and we won the championship. I'm so happy."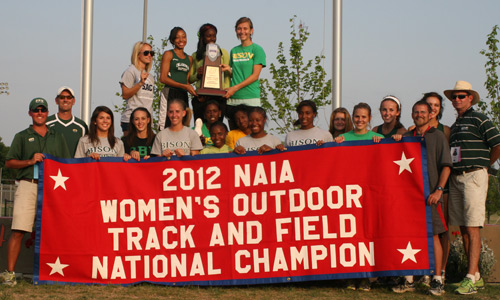 Jura Levy, the meet's Most Valuable Female Athlete, clinched the title in the 200 meters, beating chief rival and top-seeded Idella King of Indiana Tech in 23.26 seconds.
That made the final event -- the 4x400 relay -- a technicality, but even that was a success as the Lady Bison pulled off a school-record 3:35.46 with Stacy Warrior, Nikita Tracey, Levy and Verone Chambers capturing the team's third relay title of the meet.
"I'm just happy for our seniors to be leaving with a national championship," Levy said. "We're winners! They all worked as hard as I did."
In all, OBU won seven events and runner-up Concordia (Ore.) captured five.
"We won all three relays and we've never done that before," said OBU Coach Ford Mastin, who also received the NAIA Coach of the Year award. "It's amazing it took this much work to do it. The competition was tough. They all worked so hard and everyone contributed. It's fun to work hard and actually get what you worked for."
The Lady Bison finished with 101.5 points and finished 20.5 points ahead of runner-up Concordia at 81. Azusa Pacific was third at 62, Embry-Riddle was fourth at 49 and Wayland Baptist fifth at 45. Concordia's 81 was the most points by a runner-up since 2000.
The OBU men finished seventh with 32 points, tied with Hastings, while Shorter won the team title on the men's side with 93 points.
In addition to Saturday's wins in the 200 and 4x400, OBU won the 4x100, finished 1-2 in the 400 meters and won the 400 hurdles to go along with Friday's wins in the 4x800 and Levy's Friday record-setting victory in the 100.
The 4x100 relay team of Warrior, Levy, Chambers and Uniqua Cooper won in 44.46.
"It feels great and it's an honor to run with people like Verone and Jura and the rest of the team," said Warrior, a sophomore from Wewoka.
Tracey won the 400 hurdles in 57.33 seconds.
"I'm really happy to be a part of this," Tracey said. "We worked hard all season and this is what we came here to do."
Chambers and Warrior went 1-2 in the 400 meters with Chambers getting in at 52.28 and Warrior at 53.36.
Freshman Hannah Helker took second in the 800 meters at 2:08.84.
In the first event of the day, Aubrey Dolliver finished 18th in the marathon at 3:18:44.40.
OBU had scored with the 4x800 relay team on Friday with Tracey, Halie Herbert, Shondia Drew and Helker winning in 8:52.49 to start the relay trifecta for the Lady Bison.
Levy won the 100 in an NAIA Meet record of 11.35 seconds.
Evan Shimanek also scored in the pole vault, taking second at 12-1.5 on Thursday.
The NAIA Outdoor Track and Field championship lineup included Chelsea Abinah, Ashton Adams, Chambers, Cooper, Dolliver, Drew, Helker, Herbert, Levy, Aspen Marical, Meigs, Taylor Moore, Erinn Shaughnessy, Shimanek, Tracey and Warrior.
The OBU men scored Saturday in four events.
Adam Goodwin moved from last in the first lap to third in the men's 1500 with a time of 3:47.17.
Blaine Bassler took third and Andy Peffer fourth in the men's pole vault, both clearing 16-0.75.
Ross Harlan was third in the 400 hurdles with a time of 51.90.
The 4x400 relay team of Travis Hinton, Justin Frye, Travis Bish and and Harlan placed sixth at 3:12.56.
Also for the Bison on Saturday, Nathan Ellis was 11th in the marathon at 2:37:52.68, Ty Scarborough was 16th in the triple jump at 46-4 and Frye was seventh in his semifinal heat of the 200 at 23.26.
The Bison also scored on Friday in the 4x800 with Jory Custar, Rah'Man Byrd, Cody Camacho and Adam Goodwin taking third at 7:32.48.