Intramurals Crowns King, Queen
May 3, 2012
Culminating an academic year filled with hefty sports competitions, the McDowell Family Intramural Program at OBU crowned its annual king and queen Monday, April 30. Courtney Buchanan, a junior from Shawnee, continued her reign as queen, and Colin Metcalf, a junior from Jenks, Okla., was crowned king.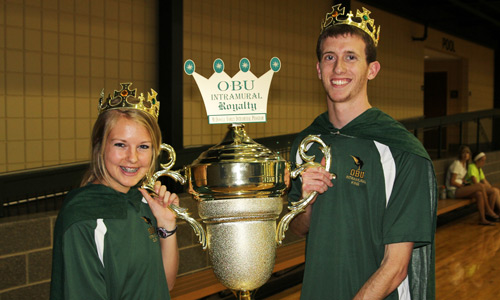 As students participated in intramural sports throughout the 2011-12 academic year, they earned points to be eligible to compete for the crown. The top 10 male and female point earners competed in a variety of activities to determine the royalty.
The McDowell Family Intramural Program attempts to offer something for everyone on the OBU campus. Annually, more than 600 students, faculty and staff participate in some form of team or individual sports activity.