College of Nursing Presents Awards, Recognitions
May 21, 2012
OBU's College of Nursing recognized its exceptional students during an awards banquet Tuesday, April 24. The college's outstanding senior, Shiloh Layn, also was recognized during OBU's 2012 Awards Convocation Wednesday, May 2.
Dr. Lana Bolhouse, dean of the College of Nursing, presented the awards.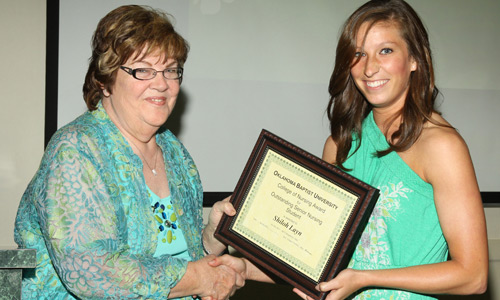 Layn, from Kingfisher, Okla., was named as the as the Outstanding Senior in the College of Nursing. Layn graduated May 11 with the designation cum laude for maintaining at least a 3.40 grade point average. The Outstanding Senior award honors the student who demonstrates competence in the knowledge and skills required for beginning practice as a professional nurse. The student incorporates caring behaviors in interactions with clients and colleagues, affirms commitment to the ethical values of the Judeo-Christian beliefs, demonstrates a commitment to continuing personal and professional development grounded in liberal arts philosophy and assumes moral and legal responsibility for his or her own professional nursing practice.
During the banquet, Marie Evans and Bethany Burke received the Outstanding Scholarship Award. Evans is from Houston, Texas, and Burke is from Dallas, Ore. Matthew Bates, from Shawnee, received the Outstanding Political Action Award. Aubrie Dolliver and Jennifer Dickerson received the Outstanding Caring Award. Dolliver is from Prairie Village, Kan., and Dickerson is from Marlow, Okla. Robyn Gaunder, from Newalla, Okla., was named the Outstanding Long Term Care Nursing Student.
Julie Griffin, from Tulsa, Okla., was recognized with the Outstanding Research Award. Chase Sprinkle, from Grand Prairie, Texas, received the Outstanding Family Nursing Award. Courtney Richart, from Moore, Okla., received the Outstanding Pediatric Nursing Award. Ryan Cox, from Sand Springs, Okla., received the Outstanding Adult Medical/Surgical Nursing Award. Jennifer Tiger, from Shawnee, received the Outstanding Critical Thinking/Liberal Arts Award. Margo Thomason, from Tulsa, received the Outstanding Service of Nursing Award. LeAnne Lowry, from Tecumseh, Okla., received the Outstanding Mental Health Nursing Award.
Several underclassmen also were recognized during the banquet. Ben Whitmore, from Shawnee, was named the Outstanding Freshman Nursing Student. Sarina Barr, from Kansas City, Mo., was named the Outstanding Sophomore Nursing Student. Jonathan Phillips, from San Luis Obispo, Calif., was named the Outstanding Junior Nursing Student.