Bison Bicycle Classic to Host State Road Race Championship
May 29, 2012
The 12th Annual Bison Bicycle Classic will once again join forces with the Pott County Pedalars to host the Oklahoma State Road Race Championship on Saturday, Sept. 29, at 9 a.m. In addition to the State Road Race there will be 25- and 50-mile tours for recreational cyclists to enjoy.
Approximately 400 cyclists are expected to attend the Bison Bicycle Classic, sponsored by the OBU Division of Music. Volunteers for the event represent OBU music ensembles, civic organizations and the Pott County Pedalars.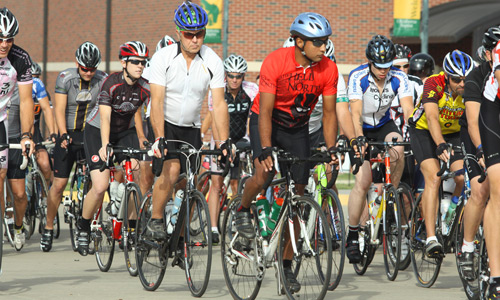 The tour and the race will be on separate courses after a short neutral roll out on MacArthur Street. The racers will race north of the Shawnee City limits while the tour will go to the South Rock Creek area with scheduled rest stops approximately every 12 miles. Lunch will be provided for all participants upon their return to the OBU Wellness Center.
The sponsors for the 2011 Bison Bicycle Classic Tour included the Shawnee Visitor's and Convention Bureau, the Bicycle Shoppe, Firelake Grocery, Shawnee Medical Center, ARAMARK and Giorgio's Pizza. Rest stops for the tour were hosted by Shawnee Sister Cities, South Rock Creek Baptist Church, Country Cottage Primitive Lavender Farm and Blackburn Chapel.
Online registration for the bike tour is available here.
For more information regarding this event, contact Jim Vernon and Thresa Swadley at (405) 432-9007, email bisonbike@gmail.com