Akin Receives Distinguished Teaching Award
May 15, 2012
Dr. Jeanne Akin, Mary A. White professor of education at OBU, received OBU's Distinguished Teaching Award during the university's Spring Commencement May 11.
Akin, who joined the OBU faculty in 1997 as assistant professor, received the award from OBU President David W. Whitlock during the graduation ceremonies before an overflow audience of more than 1,800 in the university's Raley Chapel.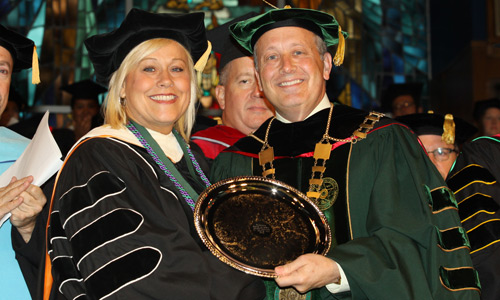 The highest honor for OBU faculty members, the Distinguished Teaching Award is presented to a faculty member who has taught at OBU for five consecutive years or more. This faculty member has exemplified in his or her teaching career those characteristics of the superior instruction delineated in the "Commitment to Excellence," a statement of teaching expectations and objectives adopted by OBU's faculty, administration and Board of Trustees.
In presenting the award, Whitlock said Akin cares deeply for students and colleagues. Her work with University Alliance, he observed, demonstrates her support for the university family.
"She is often described as a teacher's teacher," Whitlock said. "She demonstrates outstanding leadership in the classroom. Each semester, she leads her students to fully engage all areas of learning through a social studies project and an outdoor science classroom."
Students in Akin's Social Studies Methods course choose a subject and create an interactive museum. Local fifth-grade students and the OBU campus are invited to walk through the museum and experience the important history lesson.
"History comes alive for the education majors," Whitlock said, noting Akin "develops a passion for finding meaningful ways to make history come alive for future students."
Akin earned a bachelor's degree from Southern Nazarene University, a master's degree from the University of Central Oklahoma and a doctorate from Oklahoma State University. She achieved the rank of associate professor and senior faculty status at OBU in 2003. She was named professor of education in 2009.
Each year at Spring Commencement, OBU presents three important awards to recognize quality teaching and faithful, productive service: the Promising Teacher Award, the Meritorious Service Award and the Distinguished Teaching Award. Nominations for the awards are made by alumni, current students, faculty and administration. In addition to public recognition and a token of the university's appreciation, the recipients receive cash awards provided by OBU graduates John and Janet Hudson of Edmond, Okla.