Symphonic Winds to Present 'Spirit of the Heart' Concert
April 19, 2012
The OBU Symphonic Winds will present their final concert of the semester, titled "Spirit of the Heart," on Saturday, April 21, at 7:30 p.m. in Raley Chapel's Potter Auditorium. The community is invited to attend.
The concert will feature Nancy Stizza-Ortega, OBU flute instructor, on "Concertino for flute" by Cecile Chaminade, as well as a collaborative work with the Bison Glee Club, "Liberation" by David Maslanka. The program also includes "Zing!" by Scott McAllister and "Song for Lyndsay" by Andrew Boysen Jr.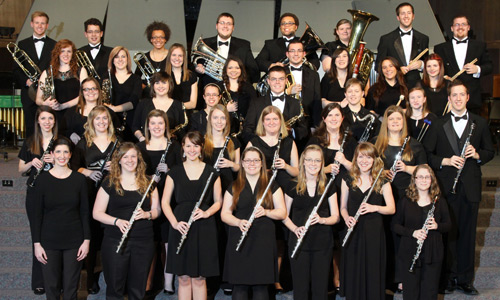 "We are excited about sharing our final concert with friends, family and the community," said Dr. Lauren Denney Wright, director of bands. "The program is unique in that we are doing a work combined with the Bison Glee Club, and I am grateful to have colleagues like Dr. Brent Ballweg who enjoy collaborating with other ensembles."
Ballweg serves as director of the Bison Glee Club and director of choral activities at OBU.
The Symphonic Winds concert will be streaming live on Ustream.tv. To view the concert online, search for "OBU Symphonic Band" on the website.
Membership in the Symphonic Winds is achieved through an audition and is open to all students of the University, although about half of the membership is music majors. Comprised of the most accomplished instrumental musicians on campus, the Symphonic Winds maintains a strong commitment to performing quality wind band works of high artistic merit. The band is equally at ease whether performing in a school assembly program, a Sunday morning worship service, or a formal evening concert. Tours have taken the band to schools and churches in Oklahoma, Missouri, Texas, Arizona, Kansas, New Mexico, Colorado, Louisiana, Tennessee and Arkansas.
At OBU, Denney Wright, assistant professor of music, also teaches advanced conducting, marching band techniques, wind band literature and woodwind methods to music education majors. She is the clarinet instructor and conducts the clarinet choir.
A native of Marietta, Ga., Denney Wright earned a bachelor's degree in clarinet performance from Vanderbilt University, a master's degree in clarinet performance from the University of North Carolina at Greensboro, and a bachelor's degree in music education from Kennesaw State University. Prior to her appointment at Oklahoma Baptist University, she completed her doctoral studies in instrumental conducting at the University of Miami Frost School of Music.