Simpson Exhibits 'Variations on a Theme' in Senior Art Show
April 19, 2012
Having grown up surrounded by music, OBU senior Mallory Simpson knew she would incorporate it with her art. Her art show, "Variations on a Theme," gives "homage," she said, to her love of both art and music, because the two balance what inspires her most.
Simpson's senior art show opens April 21 at 7 p.m. in the gallery of the OBU Art Building, and her art will be displayed through April 26.
A senior graphic design major from Ankeny, Iowa, Simpson said she wanted her show to exude "pure and inherent simplicity," which inspires everything she creates. Her desire in art is to design and create something that presents thoughts and purposes to an audience in the most honest way while retaining its beauty. Her motivation for creating is to escape her normal, everyday busyness.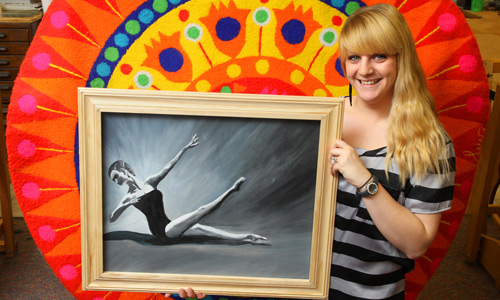 "My life is normally so planned and orderly that art is my way of letting loose," Simpson said. "Being able to create is my way of clearing my head and feeling inspired."
Simpson said her experiences at OBU have more than adequately prepared her for the future. She recognized the sense of community among the faculty and students, as well as the value of appreciating the people in her life. She spoke of the influential compassion of the professors and the worth of an education that taught her to think critically about what she believes.
"I have learned to fully analyze and process everything in a way that is biblical and honest," she said.
Simpson specifically mentioned Corey Fuller, assistant professor of graphic design, as a strong encouragement throughout her creative attempts. She said he instilled a "less is more" mentality, an approach underwritten through her artwork.
Aside from OBU professors, Simpson's parents have served as her biggest encouragers. Regardless of her dad's jokes about how she used to say she could never draw, paint or anything art-related, Simpson said her parents have consistently encouraged her to "try things" and "never give up."
"Growing up, I always liked to be creative, but never before I came to OBU did I think I'd turn into an artist," Simpson said. "But my parents always seemed to know."
Following graduation, Simpson plans to seek work, ideally in a design firm or advertisement agency. Additionally, she said she wants to continually work on fine art on the side.