OBU to Break Ground on Residential Village
April 25, 2012
As Oklahoma Baptist University nears the conclusion of a successful academic year, the University is embarking on a new construction project critical to OBU's continued success as a nationally recognized leader in Christian liberal arts education.
University administrators will host a groundbreaking ceremony for a new student residential village Thursday, May 10, at 2 p.m. The community is invited to attend.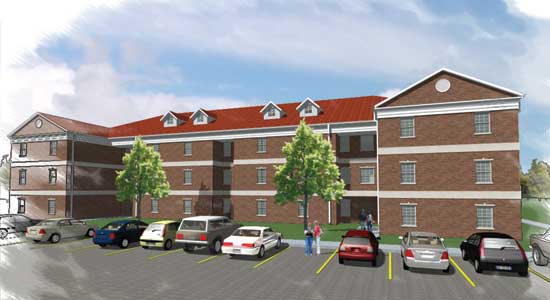 The ceremony is planned for the site of the buildings, which will sit directly north of OBU's MacArthur Apartments, on the north side of MacArthur Street, west of Raley Drive. The initial phase of the village construction includes two housing structures which feature contemporary apartment units to accommodate 194 students.
"Our residential campus has provided a nurturing environment where students form lifelong friendships and challenge each other to excel in academic, spiritual and social growth," said OBU President David W. Whitlock. "Our new buildings are a key component in the University's strategic vision for the future as we continue to equip students to pursue academic excellence, integrate faith with all areas of knowledge, engage a diverse world and live worthy of the high calling of God in Christ."
When completed, the proposed housing complex will include six large apartment buildings, one small apartment building and a centrally located clubhouse building attached to another large apartment building. The total complex will include 204 apartment units, 782 beds and 20 laundry facility/safe rooms.
Each apartment unit will feature four individual bedrooms, two bathrooms and an open floor plan including a kitchen, dining area and living area. Some of the apartments will include a washer and dryer, while others will share laundry facilities on the first floor which also double as safe rooms to be used in severe weather threats.
OBU hired CJC Architects Inc., a Tulsa firm which has worked with the University on several major projects, to plan the construction of the complex. Occupancy of the first phase of the apartments is projected for the fall 2013 semester.
Event parking will be available at Taylor Residence Center and the OBU Soccer Field. Additionally, shuttle service will be provided from the Noble Complex for Athletics parking lot. In case of inclement weather, the groundbreaking ceremonies will be conducted in the Mabee Arena inside the Noble Complex.
For more information about the event, contact Crystal McKee in University Advancement at (405) 878-2716.