Laughlin to Present Senior Piano Recital May 1
April 27, 2012
Brenden Laughlin, an OBU senior from Albuquerque, N.M., will present his senior piano recital Tuesday, May 1, in Raley Chapel's Yarborough Auditorium. The public is invited to attend.
Laughlin is a piano performance major with a pedagogy emphasis. He is the son of Karie Dumler and the godson of Karla and Darrell Poe. He is from the studio of Dr. Carol Ann Bell, retired professor of piano at OBU.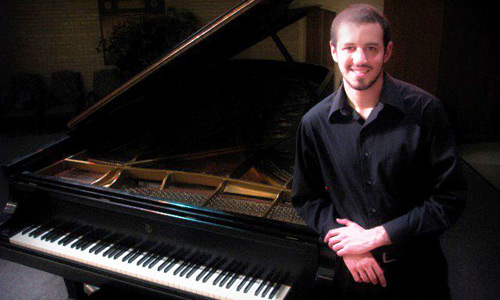 His recital will include "Sonata in D Major, Op. 28" by Beethoven; "Prelude and Fugue in D Minor from WTC, Book II" by Bach; "Polonaise in F-sharp Minor, Op. 44" by Chopin; "Prelude in B Minor, Op. 32, No. 10" by Rachmaninoff; and "Danzas Argentinas" by Ginastera.
The audience is invited to a reception in Room 142 immediately following the recital.
During his time on Bison Hill, Laughlin is a member of Pi Kappa Lambda, the National Music Honor Society. He was selected as a performer in the esteemed Concerto-Aria Concert in 2011. He has been awarded several academic and endowed music scholarships, and he has been named to the President's Honor Roll and the Dean's Honor Roll. He was selected for Who's Who Among Students in American Universities and Colleges in 2012.
Laughlin has been a four-year member of the Bison Glee Club, OBU's premier men's chorus. He currently serves as chaplain of the Glee Club. He is a member of the University Chorale and was a member of the Symphonic Band.
His activities have included accompanying the operetta "The Lantern Marriage" by Offenbach, as well as accompanying the Bison Glee Club and University Chorale. He was a chorus member in "The Marriage of Figaro" in 2011 and "The Tender Land" in 2009. He sang in Schumann's "Dichterliebe" song cycle in a special recital in 2010.
Laughlin has been accepted into the graduate program at Oklahoma State University. Following his graduation from OBU, he will work toward a master's degree in piano pedagogy and performance with Dr. Thomas Lanners. He also has been awarded a Teaching Assistantship at OSU where he plans to teach piano courses.