Clark, McQuigg to Present Junior Recital April 16
April 9, 2012
OBU students Dana Clark and Chelsea McQuigg will present their junior recital Monday, April 16, at 7 p.m. in Raley Chapel's Yarborough Auditorium at OBU. The public is invited to attend the performance.
Clark, a vocal music education major from Muscatine, Iowa, is the daughter of Donna Ward and the late Dale Ward. She is the wife of Tanner Clark of Blackwell, Okla. A mezzo-soprano, Clark is from the studio of Dr. Jennifer McQuade, assistant professor of music.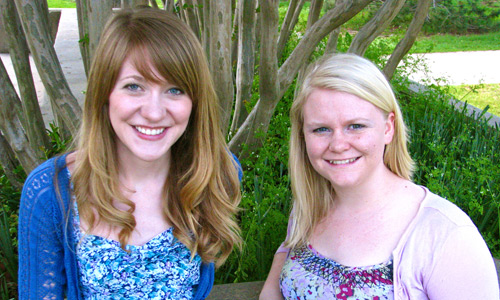 McQuigg is a music major with instrumental emphasis. From Miami, Okla., she is the daughter of Lisa McQuigg and Charles Alan and Sara McQuigg. A flutist, she is from the studio of Nancy Stizza-Ortega, an adjunct professor of flute at OBU.
The program will include works by Vivaldi, Traetta, Shubert, Debussy, Fauré, Walters and Burleigh, among other selections. The performers will be assisted on piano by Dr. Keith Whitmore, university accompanist, and Sandra Meyer, retired associate professor of music.
During her time on Bison Hill, Clark has been a member of the Bisonettes, OBU's women's glee club. She serves as secretary for the OBU chapter of the National Association for Music Educators. She serves as music minister at Fairview Baptist Church where she leads worship music on Sundays and Wednesdays. She also works with her husband, who serves as youth minister at the church. Following graduation, she plans to teach and pursue a master's degree.
McQuigg has been a member of the Bisonettes; French Club; OBU Students for Life; Symphonic Winds; and the University Concert Series. She has been named to the President's Honor Roll and Dean's Honor Roll, and she is a member of Alpha Mu Gamma honor society and Psi Chi honor society. She was a Concerto-Aria Concert finalist in 2011 and performed in the pit orchestra for OBU Theatre's production of "Brigadoon." She has performed at several churches in the Shawnee community include First Baptist Church, University Baptist Church and Temple Baptist Church. Following graduation, she plans to pursue a master's degree in music therapy and counseling.
The audience is invited to a reception in Raley Chapel room 142 immediately following the recital.