Bison Glee Club Concert to Present Spring Concert April 26
April 20, 2012
Featuring songs focused on a variety of thoughts, OBU's legendary Bison Glee Club will present their spring concert Thursday, April 26, at 7:30 p.m. in Raley Chapel's Yarborough Auditorium. The public is invited to attend the free performance featuring some of the leading male vocalists on Bison Hill.
Songs focusing on thoughts of heaven will include "The Morning Trumpet" by Wilberg, "Ain'-a That Good News" by Dawson and "Hark, I Hear the Harps Eternal" by Parker.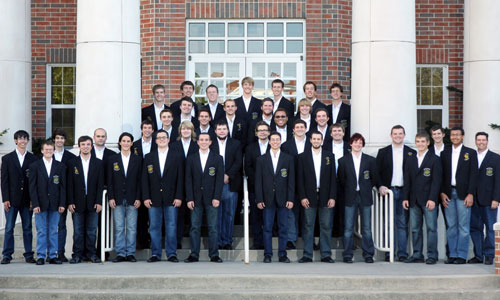 Works focusing on thoughts of freedom and liberty will include "Tschotsholoza" by Ames, featuring Glee Club member Andrew Harper as soloist; "Rainbow 'Round My Shoulder" by DeCormier; and "Seize the Day" by Emerson, from "Newsies."
The third portion of the program, focusing on thoughts of love, will include "Dúlamán" by McGlynn, featuring Glee Club members Braden Young and Muzljakovich as soloists. "When I Fall in Love," by Mulholland, will include Jeremy Smith on horn. The piece will be conducted by Glee Club member Andre Jones, a senior from Lawton, Okla. Other works will include "Georgia On My Mind" by Lojeski with soloist Joshua Ferguson; "The Longest Time" by Gentry; and "I Wished to be Single Again" by Ricketts with soloist Brenden Laughlin.
The Fallen Angells Quartet, comprised of Glee Club members Corbin Donavan, Curtis Headrick, Colin Metcalf and Sean Muzljakovich, also will perform on the concert.
Founded in 1938 by Dr. Warren M. Angell, former dean of the College of Fine Arts, the Bison Glee Club is an auditioned group of outstanding male musicians at OBU. The group has long been considered one of the premiere men's choruses in the Southwest and has toured extensively throughout the United States as well as in Canada, Europe and the Far East. Its annual season features a variety of performances including tour concerts, regular campus concerts, the Homecoming Gala, Hanging of the Green, chapel events and numerous Oklahoma-area appearances.
The Bison Glee Club is directed by Dr. Brent Ballweg, Burton H. Patterson professor of music who also serves as director of choral activities at OBU. He teaches courses in conducting, choral procedures and choral literature. He received his bachelor's degree at OBU and his master's degree at Southwestern Baptist Theological Seminary. He earned his doctorate at the University of Missouri-Kansas City. Ballweg, who also serves as director of OBU's University Chorale, is active as a guest conductor, clinician and adjudicator for various music contests, festivals and workshops across the country.
For more information about the Bison Glee Club concert, contact the OBU Division of Music at (405) 878-2305.