Alum Jordan is Creative Musical Mastermind
April 24, 2012
The Profile in Excellence award is given by the OBU Alumni Association to a former student who has "demonstrated recognizable accomplishment in his or her profession, business, avocation, or life service in such a way as to bring pride and honor to the University." Each year, Profile In Excellence recipients are featured in OBU Magazine.
What could inspire a musician to write electronic music for a 30-foot-long flaming dragon? What motivates a man to collaborate on musical works with video, lasers, light sculptures, dancers and even construction workers?
For composer and educator Tom Jordan, a 1970 OBU graduate, the stimulus is an internal drive toward creativity built on a strong Bison Hill foundation.
"As a creative person, I must have a steady stream of creative projects to appease my desire," Jordan said. "It may be a monumental public event that only takes place one time, a series of workshops with students of any age, or a stretch of time to just compose."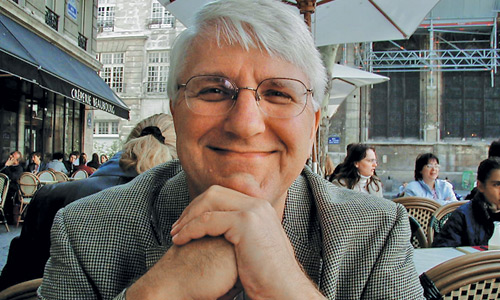 Jordan teaches in the music department at Northern Kentucky University. He designed and implemented the Computer Lab for Music which incorporates synthesizers and software for music notation, improvisation and composition.
He also teaches broadcast students the audio curriculum in the College of Informatics, one of the few informatics schools in the entire country. Housed in a new $53-million building, he continues to learn about the sophisticated high-definition video and audio systems.
"This was a natural connection for me after my years of electronic music right up to the latest digital audio of today," Jordan said.
He serves as the music technology chair for the Ohio Music Education Association's Professional Development Conference in association with TI:ME, the Technology Institute of Music Educators. He served for five years as president of TI:ME, helping to nurture the growth of music technology.
Prior to his work at NKU, Jordan received several grants which took him to various parts of the country to work with kids and synthesizers for more than 25 years. He also produced massive public events as composer and performer, premiering his work for audiences ranging from 4,000 to 30,000 people. One of his most impressive electronic music installations included 30-foot high scaffolding in downtown Fort Worth, Texas, with "waves" of music undulating down the streets.
As an educator at Northern Kentucky, Jordan feels rewarded to see his students bloom - something akin to what Dr. Warren Angell must have experienced as he gave special attention to a young Jordan on the cusp of a career in composing.
"Dean Angell took me under his wing right from the get go," Jordan said. "More than anything, my handwritten manuscript was atrocious, so the Dean gave me his old handbook on calligraphy and music notation. He gave me steady criticism on my clarity of writing style, as well as musical advice."
Jordan felt comfortable at OBU; he had sung on campus numerous times for the Youth Choir Festival, and he had attended summer music workshops for teenagers. As a musician who played clarinet, sang and wrote music, he felt he naturally would return to Bison Hill for college.
"OBU was the ideal place to get my musical start in life," Jordan said. "We were all young colleagues with enthusiastic faculty, ready to give us the best in musical education and performance opportunities. I can still look back without regret at all of the fantastic things we learned and did in performances."
He found opportunities to write for the Chapel Choir and the Bison Glee Club, and he composed, rehearsed and performed works with the Shawnee Choral Society and Orchestra.
"OBU was an open and accepting environment where I could try out my own ideas with a large group of highly talented students and very supportive faculty," he said. "So when I left the warm nest of OBU, it was only natural to take off and fly!"
He followed his education at OBU with a master's degree from Duquesne University and a fellowship at Brown University. He lectured and performed with the New Music Ensemble of Rhode Island, taught at Butler University and the University of Dayton, and was composer-in-residence for Indianapolis Public Schools.
His wife, Geneva (Lomax) Jordan, a 1971 OBU graduate, has worked alongside him faithfully, acting as an "absolute supporter throughout all my madness," he said. She has been a chief "roadie" on a few occasions, carrying boxes of wires and dragging electronic gear for live performances. She also found success as her husband's business advisor and became a professional financial advisor for others. The couple has two daughters, Cara and Melanie.
Years after composing works for OBU choirs, Jordan's creativity is still in high demand today. He is often asked to arrange old familiar hymns in contemporary but classic harmonies for traditional choral groups. His work "Shadrack" was selected for the Oklahoma All-State Mixed Chorus to perform at the Oklahoma Music Educators Association's conference in January 2011.
With his foundation on Bison Hill, his supportive family and the cutting-edge resources at his disposal, Jordan's own imagination is the only limit to what this musical mastermind will create next.
Click here to learn more about other Profile in Excellence recipients.