Alum Jennifer Cloyde Celebrates Life
April 23, 2012
The Profile in Excellence award is given by the OBU Alumni Association to a former student who has "demonstrated recognizable accomplishment in his or her profession, business, avocation, or life service in such a way as to bring pride and honor to the University." Each year, Profile In Excellence recipients are featured in OBU Magazine.
Jennifer Cloyde can't be stopped.
After feeling called to work in ministry as a senior in high school and hearing great reports about OBU from her older brother, Robert, Cloyde chose to attend OBU. As time progressed, she felt called specifically to work in the field of teen pregnancy.
Cloyde, a 1983 OBU graduate, attained a master's degree from Southwestern Baptist Theological Seminary in 1987, and a few years later began working at Arkansas Baptist Children's Home and Family Ministries. There, she helped form a maternity program for pre-teen and teenage girls and their families called Promise House Maternity Home. Promise House provides food, shelter, education and medical care during pregnancy. Classes are provided covering an array of topics, as well as counseling services.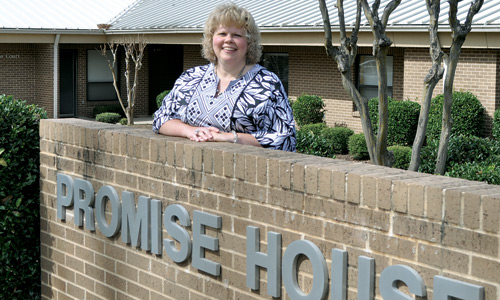 Years after creating policies and procedures and completing all the necessary paperwork to fulfill licensing requirements, Cloyde is now in her 21st year at Promise House -- her 13th year as director. She has witnessed it develop from an idea to a growing ministry reaching many girls and families each year.
"I have been blessed with the opportunity to help develop and mold a ministry that seeks to give young moms a safe place to live and nurture their babies," Cloyde said.
In addition to providing a home and education for young mothers, Cloyde is present at most of the deliveries. She has grown accustomed to a schedule resembling that of a college student -- pulling "all-nighters" as she awaits the birth of the babies. In the 20-plus years Promise House has existed, Cloyde has helped bring nearly 200 babies into the world.
"One of the most rewarding parts of our ministry is the knowledge that we have seen so many healthy babies being born to the most high-risk pregnancy group," Cloyde said. "I truly feel that God loves children, and He gives us the ability to care for these young mothers."
Cloyde attributes her service attitude to lessons learned on Bison Hill. The education she received from her professors and classes prepared her for a job in social work, but they also prepared her spiritually.
"They helped to develop my heart to desire to share God's love to a hurting, and often rejected, group of teens," Cloyde said.
She recalls English professors Dr. Bob Scrutchins and Dr. William Hagen investing in her as they offered their time, wisdom and energy. Under their leadership, she first recognized professors as "real people" as they sought to be her mentors and friends.
The nurturing relationships and experiences at OBU provided Cloyde with an inner strength as she became more outgoing, formed true friendships and delved into the world of church ministry. She discovered she would need this new inner strength and faith in God to get her through difficult times ahead.
Cloyde was diagnosed with breast cancer in 2002. She experienced many surgeries and years of chemotherapy, radiation treatments and pain, but she trusted the Lord had a plan.
When Cloyde was diagnosed, Promise House recently had relocated from El Dorado, Ark., to the more centrally-located Little Rock to provide care for more pregnant teens. The move also benefited Cloyde as she was able to work and receive treatment from a nearby hospital at the same time.
"I felt God had placed me in a special location to receive the medical care that would keep me going," Cloyde said. "I had my treatments at the same hospital we delivered our babies. I would leave the labor room and run to the other end of the hospital and have the radiation treatment, and then run back to Labor and Delivery."
Her work at Promise House is challenging, heartbreaking and demanding; however, Cloyde feels God has given her the opportunity to teach young girls how to love and nurture their babies.
Cloyde is a member of Central Baptist Church in North Little Rock, Ark., the Arkansas Association of Homes for Children (AAHC) and Southwestern Association of Executives of Homes for Children (SWA). She is a frequent speaker at churches, organizations and schools. She not only celebrates the lives of every baby born to young, new mothers, but also celebrates her own.
"I had my 50th birthday in October," Cloyde said. "That was a birthday I never thought I would see. I am not afraid of dying, but while I'm here, I will be sharing God's love and forgiveness to those around me."
Click here to learn more about other Profile in Excellence recipients.