Recital to Feature Soprano, Cello, Piano March 30
March 19, 2012
A trio of musicians, Dr. Jennifer McQuade, Thresa Swadley and Dr. Carol Ann Bell, will present a recital titled "American Music for Soprano, Cello and Piano" at the Enid Symphony Center on Friday, March 30, at 7:30 p.m. The community is invited to attend the performance at 301 W. Broadway in Enid.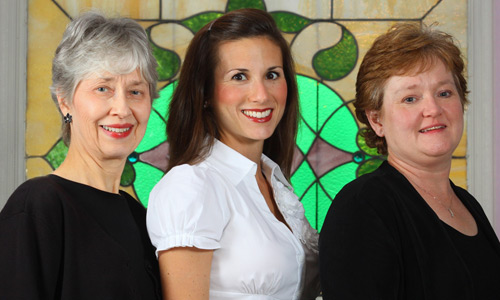 The recital will feature the original work "The Thousand Tongues of Immortality," writtenby Dr. James Vernon, professor of music at Oklahoma Baptist University. The program also will include "Vocalise" by André Previn (b. 1929); "Chanson d'Amour, Op. 21, No. 1" by Amy Marcy Cheney Beach (1867-1944); "Four Songs for Soprano, Cello and Piano: Mercy, Stones, Shelter, and the Lacemaker" by Previn, with words by Toni Morrison; and "Dream With Me" by Leonard Bernstein (1918-90).
A Canadian lyric coloratura soprano, McQuade has credits in opera, oratorio and musical theatre including the title role in "The Ballad of Baby Doe," Laetitia in "The Old Maid and The Thief," Nella in "Gianni Schicchi," Emma in "Jekyll and Hyde," the baker's wife and Cinderella in "Into the Woods" and Lilly in "The Secret Garden." McQuade earned degrees from the University of Mississippi, McGill University, the University of Western Ontario and Mount Allison University. She serves as assistant professor of music at OBU.
Swadley, a cellist, is an active musician in the state of Oklahoma. She is a member of the Enid Symphony Orchestra and has spent recent summers playing for Sessione Senese per la Musica e l'Arte in Siena, Italy, and the Orquesta Sinfonica de Guanajuato in Mexico. Swadley also has performed with the Tulsa Signature Symphony, the Fort Smith Symphony and the Oklahoma City Philharmonic. She graduated in 2003 with a bachelor of musical arts degree from OBU, and she was a student of Gregory Sauer. Prior to her current role at the University of Oklahoma, Swadley served in OBU's Warren M. Angell College of Fine Arts.
Bell, a pianist, recently retired after serving in the OBU Division of Music for 20 years. She was coordinator of class piano for 19 years and coordinator of keyboard studies from 2006-10. She continues as an adjunct private teacher and studio accompanist. Bell earned her bachelor of music degree from William Carey University in Hattiesburg, Miss. She completed her master's degree and doctorate in piano performance from the University of Oklahoma. She has studied with John Sinclair, Lytle Powell, David Kaiserman, Georgy Sebok and Digby Bell.
At OBU, Vernon teaches courses in music composition, music theory and general music. He directs OBU's Women's Glee Club, The Bisonettes. He has written music for a variety of settings, organizations and groups, including works for choirs, large ensembles and chamber groups, and music for dramatic presentations. His principle teachers of composition were John Davye, William Mac Davis and Cindy McTee. Vernon's most recent composition is "Magnificat," which was premiered in the fall by the Bisonette Glee Club. He is a member of the Society of Composers and his music is affiliated with Broadcast Music, Inc.