Morvan Presents 'Look and Feel' Art Show
March 8, 2012
When OBU senior Aaron Morvan premiered his senior art show, titled "Look and Feel," on March 2, he encouraged attendees to touch everything with the hope his personality would be reflected through his art.
"People want to pick up, look at, touch and examine," said Morvan, who is from Fort Worth, Texas. "I hate going to a museum or gallery and not being able to touch some of the pieces that have an interesting texture."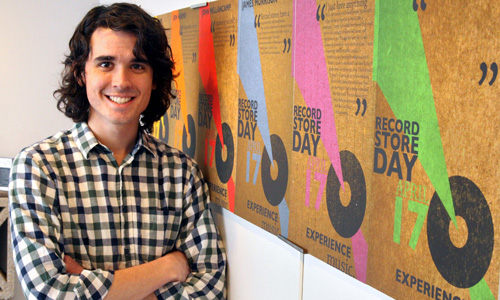 Morvan's show, displayed in OBU's Art Building gallery, was comprised primarily of graphic design pieces. And although it was a hands-on experience, he offered a warning for his viewers: "Please touch with caution. Don't go breaking my art!"
As a graphic design major, Morvan's challenge is to "fulfill the goal of communication and usability." His primary motivation in graphic design is simply to fulfill the assignment he is given. For his fine art pieces, on the other hand, he wants to have fun.
"I find that if I don't like the subject or idea behind what I am drawing or painting, I usually get bored with it," Morvan said. "And a bored artist makes for boring art."
Morvan said his favorite piece of artwork may not have been the strongest or most popular piece in his show, but the significance behind the piece made it his favorite. Titled "Family Tree," the piece depicts four scenes of the life of a tree. In the first scene, only a few leaves poke up through a mound of fresh dirt. The second scene shows a very young and skinny tree. The third scene highlights a full tree in its prime, with a strong trunk and full of green leaves. Finally, the fourth scene depicts a stump, suggesting the tree grew between scenes three and four, but leaving the viewer wondering what happened in between.
"Above the four scenes is a quote from my favorite movie, 'Ferris Bueller's Day Off,'" Morvan explained. "It reads, 'Life moves pretty fast. If you don't stop and look around, you could miss it.'
"The last element of this piece is the most important to me. The quote includes the handwriting of my maternal grandmother, then my paternal grandfather, my mom, my dad, my sister and then mine. This piece means a lot to me and it speaks to our humanity."
Morvan said he is thankful for his OBU art professors -- Julie Blackstone, Steve Hicks and Chris Owens -- but he made special mention of Corey Fuller, assistant professor of graphic design. Morvan said he also appreciates the encouragement from his family and from the people he meets and works with at Sips Downtown Kafe in Shawnee.
"I also need to thank my housemates who put up with my artistic messes and encourage me," Morvan said.
His current goal following graduation is to work for Relevant Media Group, the media company which publishes Relevant Magazine, a popular magazine among many young Christians. He said he knows no matter where he goes, though, he will never stop designing.
"Whether for personal gain, freelance, or for a design firm, I'll always be creating," he said.