Bison Glee Club to Tour in Arkansas, Oklahoma
March 19, 2012
The Bison Glee Club, OBU's all-male choral group, will sing in Arkansas and Oklahoma during its Spring Tour March 30-April 2, with performances at schools, churches and a retirement community.
On Friday, March 30, the Bison Glee Club will launch its tour with a morning performance at Southside High School in Fort Smith, Ark.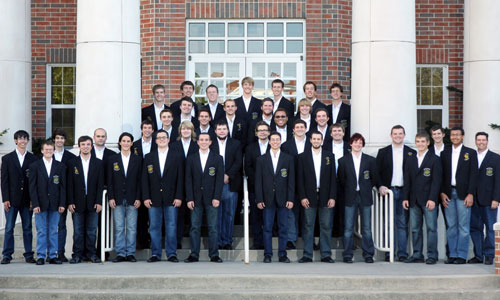 Also on March 30, the group will travel to Fayetteville, Ark., to perform a concert at First Baptist Church at 7 p.m. The church is located at 20 East Dickson in Fayetteville. The public is invited to attend the church performances.
On Sunday, April 1, the Bison Glee Club will return to Fort Smith, Ark., to perform during the 8:30 a.m. and 11 a.m. worship services at First Baptist Church, located at 1400 Grand Avenue. Also on April 1, the group will sing at First Baptist Church in Tahlequah, Okla., during the 6 p.m. worship service. The church is located at 201 Commercial Road.
On Monday, April 2, the group will conclude its Spring Tour with morning performances at Tahlequah High School and Go Ye Village Retirement Community in Tahlequah.
An auditioned group of some of OBU's finest male musicians, the Bison Glee Club has toured extensively through the United States as well as in Canada, Europe and the Far East. The premiere ensemble has been featured as an honor choir for the Southern Baptist Church Music Conference and the Oklahoma Music Educators Convention.
The Bison Glee Club is directed by Dr. Brent Ballweg, director of choral activities. Ballweg is the Burton H. Patterson professor of music in the Warren M. Angell College of Fine Arts at OBU. He received a bachelor's degree from OBU and a master's degree at Southwestern Baptist Theological Seminary. He earned his doctorate at the University of Missouri-Kansas City. Ballweg is an active guest conductor, clinician and adjudicator for various festivals, music contests, and workshops across the country.
For information about the spring tour performances, contact the OBU Division of Music at (405)-878-2305.