Bison Claim NAIA Swimming Championship
March 5, 2012
The new kids on the block are National Champions.
Down a point to powerhouse Fresno Pacific with one event left, first-year Oklahoma Baptist's Ivan Maciuniak, Nick Schuttinger, Mateo Maciuniak and Daniel Ramirez turned in an NAIA record 2:57.83 to win a national championship in the event and the meet at Oklahoma City Community College Saturday.
"You gotta believe in miracles," said OBU Coach Sam Freas. "God is good. I dreamt it. It happened. It's all about the kids. It's all about heart. Today they learned to swim with their hearts and not their heads."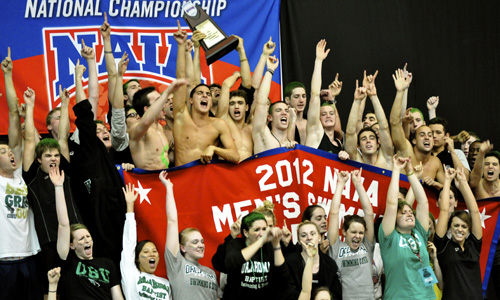 The first season for the Bison finished with four NAIA records and a national championship for the men and two event championships and a national runner-up finish for the Lady Bison.
The Bison edged Fresno Pacific 757 to 752. FPU won the women's title with 780 points to OBU's 578. Fifteen teams scored on the men's side and 17 on the women's, but the meet boiled down to a two-team race early.
OBU had fallen behind on the last day as Fresno State scored strongly in the 1650 free without a Bison competitor. The Bison bounced back with Andrew Nelson scoring a second and Ramirez a seventh in the 200 back and narrowed the gap further with 72 points in the 100 free, led by Schuttinger in second place at 44.37. That put OBU within 14 of the lead.
Daniel Marsden and Gilles Cantrelle went 1-2 in the 200 breast, but lost ground on FPU as the Sunbirds were heavily stocked in the event.
Max Abreu won the 200 fly, Garland Sullivan was third and Tom Bullock sixth for a total of 49 points, setting up the winner-take-all 400 free relay.
The Lady Bison had a runner-up finish from Nicole Wilson in the 200 back stroke with Jessica Bragason taking seventh.
Alice Oggionni was third in the 1650 free at 17:25.83 while Holly Trumble was ninth at 17:59.35.
Laura Galarza took third in the 100 free at 51.39.
Kerryn Mullin was third in the 200 breaststroke at 2:21.51, with Michelle Glass in seventh at 2:14.10 and Jade Young in 15th at 2:17.81.
Emma Forbes-Milne, Bragason, Oggionni and Wilson were third in the 400 free relay at 3:30.07.
Lauren Spray was fifth in the 200 butterfly with a 2:13.66.
OBU left with NAIA records in the 400 free relay, the 800 free relay (Javier Sossa, Cantrelle, Nelson, Schuttinger 6:39.17), the 200 free relay (Schuttinger, Maciuniak, Logan Lassley, Ivan Maciuniak, 1:19.56) and the 100 butterfly (Schuttinger, 47.46).
To learn more, please click here.