Trustees Approve Budget, Student Housing Funding
February 4, 2012
Oklahoma Baptist University trustees ratified a $53.1 million operating budget for the 2012-13 year, approved funding plans for new student housing facilities, and directed OBU administrators to consider an on-going relationship with a Baptist college in Montana during their spring semester meeting on campus Feb. 3.
The new operating budget will include a projected distribution of $19.05 million in scholarships for the 2012-13 academic year, according to Randy L. Smith, OBU executive vice president for business and administrative services. The projection is a $2.7 million increase over OBU's anticipated 2011-12 aid distribution.
The 2012-13 budget includes a 3 percent cost-of-living adjustment for all OBU faculty and staff members. It also includes implementation of a new performance/market wage system for the university's hourly personnel, targeted salary increases for administrative posts, and increases in the faculty salary card structure.
Three new faculty positions - in biology, chemistry and nursing - were added in the 2012-13 budget. Smith said the posts were added to address student enrollment growth in those academic areas.
Trustees authorized OBU administrators to secure up to $9 million in bonds or bank financing for construction of the first two buildings in a student residential village the board approved at their October 2011 meeting.
The board's approval allows OBU to proceed with finalizing architectural plans for construction of the apartment-style housing structures. University officials will seek to begin construction on the buildings, which will be northwest of the MacArthur Street and Raley Drive intersection, before conclusion of the current spring semester. Projected occupancy for the new student apartments is the start of the 2013 fall semester.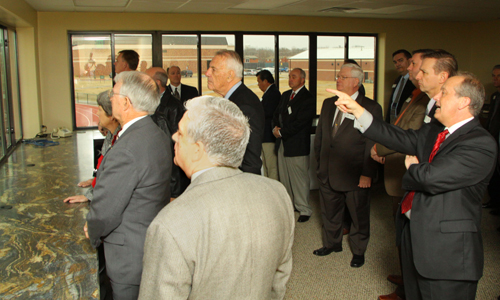 Trustees also unanimously approved "exploration of the viability of Yellowstone Baptist College becoming an extension of OBU."
In his state-of-the-university report, OBU President David W. Whitlock told board members the university has been asked to consider administrative operation of the private college in Billings, Mont. Affiliated with the Montana Baptist Convention, Yellowstone Baptist College opened in 1974. The college has had a cooperating relationship with OBU since 1993, when the Yellowstone began offering OBU's college-level Ministry Training Institute courses on its campus.
"We have continued to partner with them and provide support in offering a regionally accredited degree program," Whitlock said. "As they look at the need to expand their course offerings, particularly in areas like business and education, and as they look at requirements for accreditation as a self-standing institution they realize they have a long road ahead unless they merge and become a part of the Oklahoma Baptist University system."
With the trustees' vote to explore the relationship, OBU will hire the consulting firm of Allen, Stewart and Agee to investigate the possible merger of educational entities.
"The consulting group has agreed to assign former OBU President Bob Agee to visit YBC with OBU administrators in February and consider whether or not to move forward with this," Whitlock said. "There are a lot of wonderful opportunities for us to expand the mission of Christian higher education in the northwest United States."
Whitlock told the trustees that if the schools enter into the agreement, the Montana college will be governed by the OBU board.
"There are some marvelous advantages" for OBU faculty and students to utilize Yellowstone Baptist College facilities for summer programs, Whitlock said.
In his remarks, Whitlock also reported OBU's spring semester enrollment stood at 1,747.
"That is a 4.9 percent increase over last spring's headcount," said the president. "The strong enrollment also means we have exceeded our budget projections for the semester. We have done that for both the fall and spring terms during the 2011-2012 academic year and that is great news in many respects."
In other action, board members approved sabbatical leaves for two faculty member during the 2012 fall semester. Dr. Sherri Raney, associate professor of history and political science, is a candidate for a Fulbright Teaching Grant to teach in Russia during the fall semester. Dr. Bret Roark, Barby professor of psychology, will spend his sabbatical leave writing an introductory psychology textbook. Both Raney and Roark have served on the OBU faculty for 18 years.
Trustees granted senior faculty status for three faculty members: Dr. Terry James, assistant professor of teacher education, Dr. Gina Kraft, assistant professor of kinesiology and leisure studies, and Dr. Mark McQuade, assistant professor of music.
Trustees formally approved the contract of the university's newest faculty member, Chris Jensen, who was named OBU's head football coach on Jan. 18. In his role with the university, Jensen is a member of the faculty in the College of Humanities and Social Sciences. Jensen addressed the board members during the opening session of their meeting on Feb. 3.
The trustees elected Scott Neighbors pastor of worship and discipleship at the First Baptist Church of Skiatook, as a trustee advisor. Neighbors recently completed a term on the board and will serve in a three-year, non-voting term as an advisor.
Dr. Reagan Bradford Sr., chair of OBU's 33-member board of trustees, moderated the board's plenary session. Bradford is a medical research physician from Oklahoma City.