Sanyati 'Extreme Makeover' Gets a Lift from Nine Youngsters
February 20, 2012
Editor's note: The following story is about missions workers Daren Davis and Shawna (Norfleet) Davis, a 1990 OBU alum. It was written by Mark Kelly, a 1977 OBU alum, who writes for Baptist Global Response.
The "extreme makeover" of Sanyati Baptist Hospital in Zimbabwe is no ordinary project, but the crew of nine youngsters, ages 11-18, that descended on the place in December were no ordinary kids.
Sanyati Baptist Hospital, a 60-year-old icon of Southern Baptist overseas work had fallen into serious disrepair as that country's economy collapsed over the past decade. The problems included a completely broken water system, leaking roofs, rotting fascia, termite damage, and electrical malfunctions. The hospital's electrical supply was so unreliable that staff had installed auto headlights and a battery in an operating room to be sure doctors weren't plunged into the dark in the middle of surgery.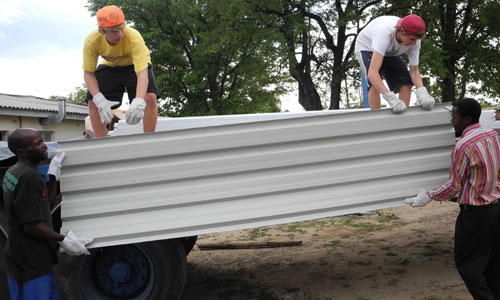 In four days, the kids offloaded 15,000 pounds of roofing metal from a truck and assembled 15,000 screws to help future roofing teams, besides painting a hallway, inventorying supplies and encouraging two local churches. And they did it with an average of only four hours of electricity each day.
The youngsters, "missionary kids" whose parents serve in nearby Botswana and South Africa, turned out to be as extreme as the challenge they faced, said Daren Davis, an International Mission Board missionary in Botswana who was one of four fathers accompanying the youth team.
"This team of kids maintained a great attitude of servanthood, flexibility, and commitment to the task at hand," Davis said. "They enjoyed working together, playing together, and eating together. It was a great experience for these kids and something they will not soon forget.
"They were moved at the conditions the patients must live in and the inadequate resources the nurses and doctors have at their disposal to meet the needs of these patients," Davis added. "They were blessed to be able to do a little to help make the hospital a better place and to share a message of encouragement with area churches."
Making a Difference
Team members said they were glad they could make a difference for families that depend on the hospital for medical care.
"It made me sad to take a tour of the hospital. It seemed old," said team member Meredith Davis, 16, daughter of missionaries Daren and Shawna Davis in Botswana. "Even though my jobs were small, I know they were important and that I was helping the future teams that are going to come and put the new roof on the hospital. It let me know that, even though I am young, I can still help people less fortunate, like in 1 Timothy 4:12."
Meredith's brother Micah, 18, said the project gave him some important insight on the difficulties people face each day.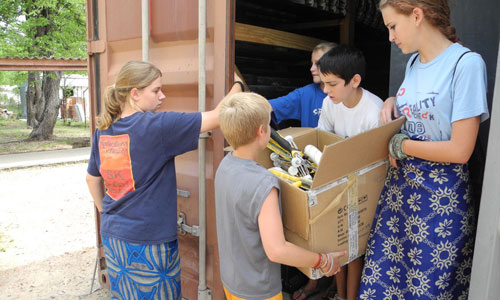 "When younger generations go on trips like these they will see that they need to stop complaining about the hard stuff that they are going through because other people are going through things that are twice as hard," Micah said. "I learned that I need to be happy with what I have and stop wishing for things I don't have."
One of the younger team members said he was struck by the fact that Sanyati Baptist Hospital meets a crucial need in a remote area like Sanyati.
"Working at Sanyati Baptist Hospital meant a lot to me because that hospital is the only hospital in that village and the village is in the middle of nowhere," said Rhett Warner, 12, son of missionaries Brandon and Torie Warner in Botswana. "So it was cool being able to repaint the walls and assemble screws for them. If I have another chance to go again I will definitely go!"
Powerful Impact
The hospital makes a powerful impact in a country where so many people are in need, handling 35,000 outpatients and 1,800 inpatients a year, as well 1,000 surgeries and 1,500 births each year, said Mark Hatfield, who with his wife, Susan, directs work in Sub-Saharan Africa for Baptist Global Response, a key partner in the renovation project.
"With the economic difficulties Zimbabwe has experienced the past 10 years, many people find it very difficult to feed their families, much less provide medical care," Hatfield said. "Sanyati is the only option for hundreds of thousands of Zimbabweans who need medical care. Hospitals in the country struggle to keep their doors open, and volunteer teams like this one are making a difference for Sanyati."
The five-year "extreme makeover" plan for Sanyati intends to restore the facilities at the hospital to a state where they can be locally maintained, said project director Peter Sierson, missions pastor at Pleasant Heights Baptist Church in Columbia, Tenn.
A dozen teams a year will be needed over the five-year course of the project, Sierson added.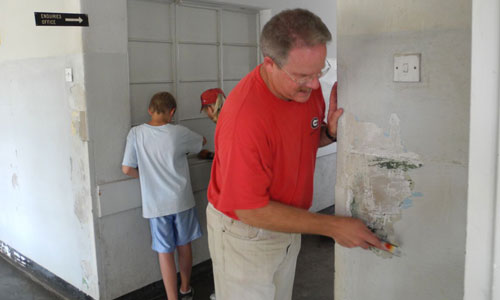 In 2011, about 125 volunteers came to Sanyati, and another 150 to 200 are expected in 2012, Sierson said. "We were able to replace the roofs on two of the 12 buildings this past year," he said. "I hope we can get at least 10 buildings under new roof by this time next year, then our thoughts can turn to inside the buildings."
For 2012, teams already are lined up from Kentucky, Florida, Virginia, Tennessee, Oklahoma, Louisiana, Georgia, Texas, Sierson noted. Congregations in Zimbabwe also will assist.
"We had Zimbabwe churches involved in the project last year, and we look forward to more of them joining us," Sierson said. "We're also very excited that the Chick-fil-A corporation is partnering with us in 2012. They already have led a leadership development conference for the Baptist Convention of Zimbabwe that included hospital leadership. We are looking forward to working with them."
Even residents of the Sanyati community have turned out to help, added Tim Shaw, an International Mission Board missionary in South Africa who also accompanied the youth team.
"Several volunteers from the community showed up to help paint or move steel," Shaw said. "It was a pleasant surprise. They never asked for anything. Just wanted to help!"
Answered Prayer
Sanyati supporters had prayed God would call out an on-site project coordinator to smooth the way for volunteer teams coming from the United States, Sierson added. That prayer was answered when Ryan Sifford, a member of First Baptist Church in The Colony, Texas, agreed to come with his wife, Rashel, and three girls, ages 2-7, to help coordinate efforts on the project. Sifford, who served on a Sanyati work crew last summer, will stay for six months, starting after Easter.
Plenty of opportunities to help at Sanyati are still available, Sierson added. "There are still openings in the schedule for more teams," he said. "There is a focus on roofs, but other projects need to be done as well."
For information about volunteering, e-mail psierson@pleasantheights.com.