Communication Arts Students Present Research
February 10, 2012
Eight OBU communication arts students recently were selected to present their research papers at the 2012 Sooner Communication Conference at the University of Oklahoma on March 3. All student papers went through a blind-review process for selection.
Students who each submitted a paper chosen for inclusion in the conference include: Caylee Coover, a senior strategic communication major from Henryville, Pa., whose paper is titled, "A Family Face a Type 1 Diagnosis: Communication Acts that Matter"; Lauren Smith, a junior applied communication major from Greenwood, Ark., "The Face of Community on University Campuses: Residential Life at OBU"; Matthew Reiger, a senior applied communication major from Andover, Kan., "Conflict Assessment Report: Tiananmen Square Massacre"; and Kristina Smith, a senior strategic communication major from Petaluma, Calif., "God's Green Earth: What Role does Faith Play?"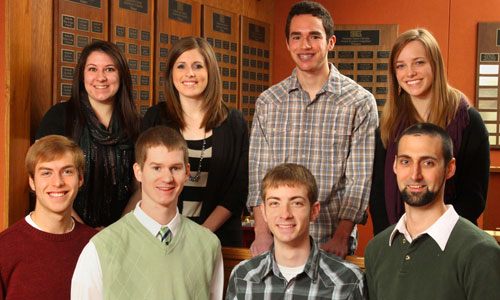 Additional students who submitted selected papers include Neal Ellis, a junior applied communication major from Midlothian, Texas, whose paper is titled, "Implications of Engagement: Exploring the Experience of OBU Students"; Andrew Gabbert, a junior digital media arts major from Shawnee, Okla., "The Discernment Process: What's Next?"; Travis Alexander, a junior applied communication major from Bartlesville, Okla., "Funding the Call"; and Timothy Robertson, a senior applied communication major from Waynoka, Okla., "Wrestling with Masculinity."
Alexander's paper was named a top undergraduate research paper.
"I'm very proud of our students, and it's always rewarding to see their hard work receive public recognition," said Dr. Kaylene Barbe, professor and chair of the Division of Communication Arts. "This is a great experience for them as they get to connect with other students and faculty from across the nation as well as proudly represent OBU."
The students performed the work either as part of the communication course CMAR 2503: Information Gathering and Research, taught by Dr. Vickie Shamp Ellis, associate professor of communication arts, or APCM 3453: Communication and Conflict, taught by Barbe.
The focus of Ellis' course is to generate original research by having each student find the intersection of his or her specific interest with communication.
"When students complete a review of the literature, utilize multiple methods for accessing data, carefully record the data, and evaluate the data for meaning, they generally walk away with a new respect for formal quantitative and qualitative research," Ellis said. "Their arguments ultimately become a part of the greater body of knowledge, and that's empowering."
Ellis said the research process is exciting because it often is the first time the communication majors and minors are challenged to pursue original research. In preparation, the students take a host of classes and read about others' research. In this course, she said, the students realize their own power to inspire an academic discussion they deem particularly important.
"As I work with each student during the semester, I get taken in by the student's enthusiasm for his or her topic. The process can be a bit overwhelming at times. There may be some conceptual missteps, timing glitches and computer meltdowns along the way, but we encourage one another, complete the work and, ultimately, share some meaningful conclusions."
Ellis said the student papers selected for the conference appealed specifically to one of the represented conference divisions. Other students' papers that were not submitted to this conference will be submitted for consideration in future conferences and/or journals this semester. She said the entire class is supportive of one another's research effort, and when even one paper gets accepted to a conference, it is a positive reflection on the entire class.
"When students present at a conference, they are communicating to the academic community: 'I pursued my interest, completed a scholarly research process, and defended my conclusions in a formal context to professionals in the field,'" Ellis said. "In other words, a conference presentation garners respect from other communication scholars, other academic disciplines and other professions familiar with the blind-review system.
"Without question, our students' commitment to scholarship is impressive."
The Sooner Communication Conference is an OU graduate student-organized event joining faculty and students from schools throughout the region and the nation. The conference presents an opportunity for students and faculty to discuss developments in theory and research across the communication discipline and for students to fine-tune research papers for other conferences and possible publications. The theme for the 2012 conference is Communication Connections: Traditional and Contemporary.
For more information about the conference, click here.