Alum Visits Classrooms to Share about Career Success
February 16, 2012
Mark Johnson, a 1982 music graduate from OBU, returned to Bison Hill on Feb. 13-14 to speak to faculty and students about his use of technology in the Nashville music industry.
A seasoned composer, programmer, conductor, orchestrator and educator, Johnson specializes in the creation of instrumental tracks for film, television, advertising and other media. He received a bachelor of music degree in theory and composition from OBU and a master of music degree in composition from the University of Oklahoma. He earned honors as a composition national finalist for the Music Teachers National Association. He has served as associate music minister at two churches, a church instrumental clinician, and the founder and conductor of a symphony and youth orchestra. His media honors include orchestral work with the movies "Last Ounce of Courage," "The Samaritan" and "Hannah Montana - The Movie."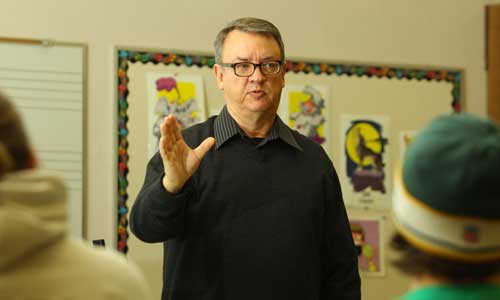 Johnson attributed a large portion of his career success to his education at OBU, highlighting the importance of "strong basics." As a college student, he said it was difficult to understand the need for the fundamentals. After joining the business world, however, Johnson realized he was capable of performing his everyday tasks because of the basic lessons he learned in classes such as music theory, music history, style and analysis, conducting and composition.
He noted several former professors who enhanced his OBU experience, including Robert Wood, who taught Johnson in an "Introduction to Music Synthesizers" course; Katherine Timberlake and Mary Kay Parrish, who taught Johnson in honors music theory; and Nancy Hill Lippens, who instructed Johnson at the composition level.
"I had a great set of professors when I was here," Johnson said. "They were incredible people. Each professor was able to help me learn basic skills and troubleshooting and problem-solving for my own work."
In addition to explaining the purpose of theory and the importance of being able to communicate those aspects with other people, Johnson mentioned another asset of OBU professors: they did not "compartmentalize" students, he said, but rather allowed students balanced growth. Johnson had campus experiences with concert band, jazz band, University Chorale and other groups, and has since used his experience in all those areas in his career.
"If you are able to work through many different applications in your field, I encourage every student to explore as many different aspects as they can," Johnson said.
He also encouraged music students to take advantage of their resources, especially the Internet, a means of research and networking that was not available when he was a college student. Johnson said the Internet provides students with "supplemental teachers" because students have the ability to communicate with people and share ideas with those on the other side of the world.
A native of Bethany, Okla., Johnson currently lives in Franklin, Tenn., with his wife, Lisa, and his two daughters, Anna, 19, and Lara, 18. His presentation schedule at OBU included serving as a guest speaker in six classes, a meet-and-greet pizza supper and an open student meeting.