Flag Football Teams Represent OBU in Regional Championship
December 6, 2011
Two flag football teams from OBU made Bison Hill intramural history at the University of Nebraska Nov. 18, 19, and 20. Despite wind chill temperatures below freezing, a wide variety of player personalities, and an unexpected change in a player line-up, the teams played fiercely, represented OBU admirably and returned with a trophy in hand.
OBU sent one men's team and one women's team to the Regional Flag Football Championship at the University of Nebraska, marking OBU's first appearance at the event since 2005. In the past, OBU sent the team that won the on-campus intramural league championship. This fall, OBU decided to handpick a team that would best represent the intramural program and the university.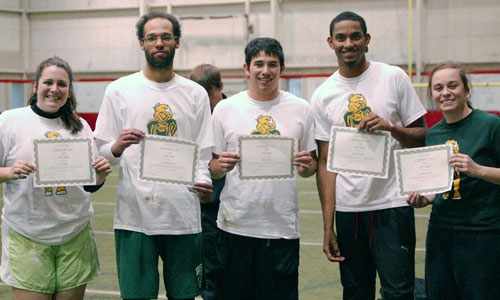 David Gardner, program coordinator for intramurals and recreation at OBU, chose students from various intramural teams at OBU and created a unique type of "all-star" team. Gardner said his desire was to create two teams who would bond with one another quickly and play well together.
"Chemistry was a big factor," Gardner explained.
The women's team included: Liz Dillon-Herman, a senior from Shawnee, Okla.; Rachel Adamson, a senior from Stillwater, Okla.; Samantha Ridder, a senior from Spring, Texas; Beth Jones, a senior from Fletcher, Okla.; Caitlin Carpenter, a sophomore from Arlington, Texas; Lori Taylor, a sophomore from Wichita Falls, Texas; Ashley Roberts, a freshman from Shawnee; Jeanette Santibanez, a freshman from Allen, Texas; Ali Scott, a freshman from Fort Gibson, Okla.; Sally Jeffers, a sophomore from Tulsa, Okla.; Sydney Staggs, a senior from Checotah, Okla.; Lauren Kinser, a senior from Oklahoma City; Natalie Gates, a freshman from Shawnee; Taylor Wallar, a junior from Rowlett, Texas; and Bethany Ray, a sophomore from Oklahoma City. Dayla Rowland, student ministry associate of evangelism and mobilization at OBU, also participated on the women's team.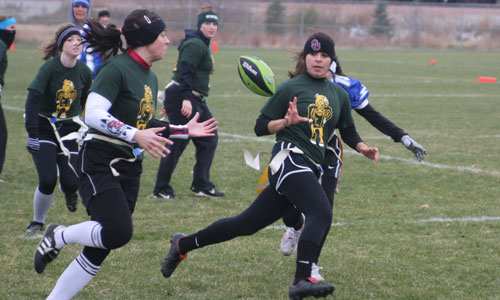 The men's team included: Shane Haff, a senior from Pryor, Okla.; Ross Harlan, a senior from Shawnee; Caleb Neal, a freshman from Mill Creek, Okla.; Roman Gray, a senior from Elk Grove, Calif.; Quinn Cordova, a junior from Denver, Colo.; Derik Douglas, a junior from Salida, Calif.; Aaron Partridge, a senior from Tulsa, Okla.; Jordan Robinson, a senior from Shawnee; Jon Scott, a junior from Fort Gibson, Texas; Ben Buchanan, a senior from Shawnee; Cody Yount, a senior from Okay, Okla.; Micah Finley, a senior from Broken Arrow, Okla.; Jake Hooten, a senior from Seminole, Okla.; and Adam Sanders, a senior from Checotah.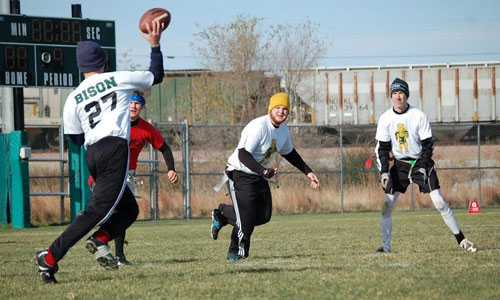 OBU Intramurals chartered a bus, booked hotel rooms, and headed to Nebraska. The teams practiced together three times before the first games. Since the original quarterback for the men's team was injured, the men played with three different quarterbacks. They barely made it into the bracket, Gardner said, and he realized he needed to change his strategy. He created an entirely new line-up. Much to his surprise, the switch proved to be exactly what the team needed, instigating a new level of cohesion the players previously had not experienced.
"We played flawlessly," Gardner said. "Everybody contributed, and it was so much fun. It was magical watching them play together as a unit. Apart from my children's moments -- my son making his first touchdown and my daughter getting her first big spike -- that was the best day in sports I've ever had."
The women made it to the semi-finals, beating the Air Force women's team in the process. The men lost to the Air Force men's team, but placed second overall out of 22 men's teams in the region. Five OBU players were selected to the all-regional team: Ali Scott, Liz Dillon-Herman, Ross Harlan, Derik Douglas and Jordan Robinson. OBU also won the sportsmanship trophy amidst 35 total teams in attendance.
Shane Haff, one of the Bison men, wrote to Gardner: "For a guy that played varsity sports all through high school, this experience was very unique. Despite all of the adversity our team faced and the fact that it was freezing cold, this will probably go down as the best sports memory I have ever had."
Another player, Beth Jones, said, "This was a great weekend. We all had so much fun and made great memories."
Gardner expressed pride in the students for representing themselves and OBU in a positive manner that was evident to all.
"One of the scenes that I will never forget was just after we lost to Air Force," Gardner said. "All the men and women got together to pray and then went with Ka-Rip afterwards. On the way back, the bus was full of tired, cold and achy players with grins on their faces from ear to ear, and the chatter of, 'I can't wait until next year.'
"I am just so proud to be a part of OBU and work with students as exceptional as these young men and women."
For more information about OBU Intramurals, click here or contact David Gardner at intramurals@okbu.edu or by calling 585-5227.