Outstanding Honorees to be Recognized at Harvest Dinner
November 2, 2011
Eight distinguished honorees will be recognized during OBU's 2011 Homecoming festivities, with three receiving the Alumni Achievement Award, one receiving the Graduate of the Last Decade Award and four being inducted into the OBU Athletic Hall of Fame.
Mike Fogarty and Bob and Nelda Ward Keck will receive the Alumni Achievement Award, the highest honor bestowed by OBU's Alumni Association. Derek Watson will receive the Graduate of the Last Decade (or GOLD) Award. Clay Martin, Kena Freeman Martin, Mirriam Kaumba Siamusiye and Doug Tolin will be inducted into the OBU Athletic Hall of Fame.
The recognitions will be featured at OBU's Harvest Dinner on Friday, Nov. 11, at 6 p.m. in the university's Geiger Center.
The Alumni Achievement Award is given "in recognition of outstanding life service which has brought honor to the individual's alma mater."
Fogarty has built a career on serving others through public services, civic and political offices and private law. He currently serves as chief executive officer of Oklahoma Health Care Authority, the Oklahoma State Medicaid Agency. The OHCA public product, SoonerCare, has 750,000 enrollees, including 480,000 children, and a total budget of $5.1 billion.
At OBU, he served as chief justice of the student government. He graduated in 1970 with a major in psychology and minors in music and government. He earned master's degrees from Southwestern Baptist Theological Seminary and the University of Oklahoma. He earned his juris doctorate from Oklahoma City University.
Fogarty's career has included positions as a social worker, a counselor, a supervisor and director in human services, a legislative staff member in the office of U.S. Senator David Boren, the owner of long-term care facilities TFC, Inc., and an attorney in private law practice. He has served on the board of directors for numerous organizations.
He has received numerous awards, including the special recognition from the OU Anne and Henry Zarrow School of Social Work in 2011. He received the distinguished alumni award from the OU College of Arts and Sciences in 2010, and OBU's Profile in Excellence award in 1994.
Fogarty and his wife, Billie, have been married 43 years. They have four children, Rick, Michaela, Kathleen and Daniel, and eight grandchildren. They are members of First Baptist Church, Oklahoma City, where they serve as deacons and in music ministry.
The Kecks, who own Glory B Ranch in Springer, Okla., are lifelong Southern Baptists who have served faithfully in ministry and higher education. Nelda attended Draughon's School of Business in Oklahoma City and served as a financial assistant at First Baptist Church. Bob was an all-conference athlete at OBU for four years and a National Association of Intercollegiate Athletics All-American. The couple married in 1951.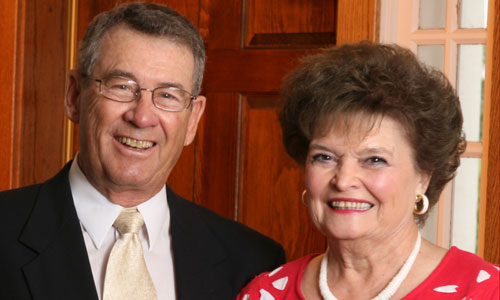 After graduating from OBU in 1952, Bob earned bachelor of divinity and masters of religious education degrees from Southwestern Baptist Theological Seminary. The Kecks served at Cobb Switch Baptist Church near Terrell, Texas, where Bob preached and Nelda played piano.
Bob earned a master of education degree at Texas Christian University. His was a teacher and counselor with Fort Worth Public Schools; assistant to the executive secretary of the Texas State Teachers Association; and a lobbyist in the Texas legislature and U.S. Congress. He was executive director of the Texas Parent Teacher Association and assistant director for TRS-Care insurance through the Teacher Retirement System of Texas. Nelda worked at the Southern Baptist Radio and Television Commission, the Junior College President's Association and the University of Texas.
The couple simultaneously ministered in Baptist churches in Texas and Oklahoma for 50 years, including 30 years at West Lake Hills Baptist Church in Austin. They retired from bivocational service in 1994. They have continued their community service, and Nelda is active in the Daughters of the American Revolution. They have two children, Bob N. Keck and Karee (Keck) Hopkins.
The GOLD Award is presented to a young alum who has demonstrated outstanding achievement in his or her life and career and brought pride and honor to the University.
Watson is an EMMY award-winning video producer whose passion for media and storytelling began during his teenage years in Portugal as a missionary kid. Today Watson owns and operates Lampstand Media.
Born in Fort Worth, Texas, he earned a bachelor's degree in broadcasting from OBU in 2006. He was involved in all three student-produced productions on campus: News30, Bison Spots Network and Quiet Hours. He co-produced the OBU promotional video, "Shine at OBU," operated cameras for live sporting events across the state, and won 10 Oklahoma Broadcast Educators awards. He also sang in the Bison Glee Club.
Watson was the photojournalist and editor of Stateline, a monthly issues-driven documentary series on OETA. He created, developed and produced OETA's new documentary series, State of Creativity. He won numerous awards including an EMMY, EMMY for Rookie of the Year, Oklahoma Association of Broadcasters Program of the Year, Associated Press Editor of the Year, and four Society of Professional Journalism awards. He was selected as one of the top 20 emerging documentary producers in the country for the prestigious PBS Documentary Producer's Academy.
Watson is married to Julie Lester, '06, and they have one daughter, Finley. He is the son of Glenn Watson, '83, and Sherri Watson, '81. He has two brothers, Brad Watson, '08, and Grant Watson.
In April 2010, Watson launched Lampstand Media to work with non-profits, churches and missions organizations. Productions have taken him across North America and to Southeast Asia, Africa, Central America and, recently, Iraq.
The OBU Athletic Hall of Fame recognizes former athletes and coaches for their record-setting tenure at the university.
Clay Martin, a 1999 alum, was a four-year starter for Bison basketball. He was a third-team All-American in 1999 after earning All-America honorable mention in 1998. A three-time All-Sooner Athletic Conference selection, he earned First-Team and Defensive Player of the Year honors as a senior.
The Tulsa product finished his career with 1,126 points and the OBU record for career assists with 899. He was part of two conference championship teams. The standout guard led OBU to the NAIA quarterfinals in 1999 and the title game in 1997.
Martin has served as head boys basketball coach at Jenks High School since 2003. He also is assistant high school principal in Jenks. He previously coached and taught at Tecumseh and Muskogee, and was an assistant coach at the University of Texas-Pan American. He is a member of the Oklahoma Basketball Coaches Association. He also works as an NCAA Division I football official for Conference USA.
Martin and his wife, Shannon, have a daughter, McKenzie, 10, and a son, Chase, 8. Shannon is a clinical drug study coordinator with Movement Disorder Clinic of Oklahoma. The Martins are members of the First Baptist Church of Tulsa, where Clay serves as a deacon.
Kena Freeman Martin, a 2003 graduate, was a four-year starting pitcher for the OBU softball team and is the program's only two-time All-American. Martin was a four-time All-Conference selection and also was an All-Region honoree for three years. She led OBU to back-to-back NAIA World Series appearances in 2002 and 2003.
Martin tossed a nine-inning no-hitter against East Central University in 2000 and a perfect game against Briar Cliff in 2002. She holds OBU records for career wins (59), innings pitched, (655.2), wins in a season (22), and season earned run average (0.34).
After graduation, the Tuttle, Okla., native taught sixth-grade English in Shawnee Public Schools from 2009-11, and was OBU's assistant softball coach in 2008-09.
Martin and her husband, Andrew, have 1-year-old twin daughters, Eveyln and Kaitlee. Andrew is executive director of Panfork Baptist Camp in Wellington, Texas, and Kena is the camp's assistant programmer and accounts manager. They are members of Shamrock (Texas) Baptist Church, where Kena works with children's and women's ministries.
Siamusiye, a 2006 alum, was an 11-time All-American in track and two-time All-American in cross country, leading the Lady Bison to the 2005 Indoor National Championship. She won the NAIA national cross country championship -- OBU's only female winner -- in 2004.
The native of Zambia set the NAIA record in the 5,000 meters both indoor (16:20.97) and outdoor (15:47.58) and won national titles in those events (indoor in 2004 and 2005 and outdoor in 2005), as well as the 2006 indoor 3,000, and the outdoor 10,000 meters in 2004 and 2005. She also holds school records in the indoor mile (4:44.89), indoor 3,000 (9:15.43), indoor distance medley relay (11:51.43), outdoor 1500 (4:34.40) and outdoor 10,000 (34:38.38).
She and her husband, Godfrey, have a 15-month-old son, Godfrey Jr. They reside in Fayetteville, Ark. Godfrey, a teacher and coach at Shiloh Christian High School, recently was inducted into the University of Arkansas Athletic Hall of Fame. The Siamusiyes are members of Cross Church in Springdale, Ark., where Mirriam works with pre-school and child care programs.
Tolin was named OBU's head men's basketball coach in the spring of 2000. He has led the Bison to 11 consecutive NAIA Tournaments, including the national championship in 2010. His teams have reached at least the quarterfinal round six times. Voted SAC Coach of the Year in 2002 and 2003, Tolin was NAIA Coach of the Year in 2010.
Tolin led his Bison to three consecutive regular season conference titles from 2002-04 and another in 2010. Five of Tolin's OBU teams have won 30 or more games. Tolin has coached seven All-NAIA Tournament picks, seven first-team All-Americans, a third-team All-American and two NAIA Player of the Year honorees, as well as six All-America honorable mention selections and 11 NAIA All-America Scholar Athletes.
The Bartlesville, Okla., native graduated from East Central University in 1975. He was inducted into ECU's Athletic Hall of Fame in 2008. He was boys basketball coach at Ada and Norman high schools before moving to OBU. His Norman squads captured a state championship in 1999 and posted runner-up finishes in 1996 and 2000.
Tolin's wife, Susan, teaches sixth-grade social studies at Shawnee Middle School. The Tolins have a daughter and son-in-law, Christy and Gavin Lang; a son and daughter-in-law, Kyle, '04, and Lisa Tolin, and a daughter, Keely Tolin, '08. They have three grandchildren. The Tolins are members of St. Paul's United Methodist Church in Shawnee.
For more information about the upcoming OBU Homecoming festivities, click here or call (405) 878-2706.