Alumni, Faculty Honored at Homecoming Chapel
November 15, 2011
OBU honored outstanding alumni and faculty and OBU President David W. Whitlock offered a message of vision to alumni, students, faculty and friends during the 2011 Homecoming Chapel Saturday, Nov. 12, in Raley Chapel.
The university recognized recipients of the Profile in Excellence Award, given to former students who have "demonstrated recognizable accomplishment in his or her profession, business, avocation, or life service in such a way as to bring pride and honor to the University." The university also inducted its second Faculty Hall of Fame class during the service to honor former OBU faculty members who were master teachers, making a significant impact on OBU students.
Recognizing leaders among alumni, the 2010 Profile in Excellence award recipients were Charles and Betty Alexander, 1954 alums from Benbrook, Texas; Vince Alexander, '89, from Aiken, S.C.; Sadie Gardner Blanton, '39, from Monument, Colo., and her twin sister, Madie Gardner Shaffer, '39, from Guymon, Okla.; Chris Brewster, '92, Oklahoma City; David Dennis, '79, Clearwater, Fla.; Dr. Omer Hancock, '64, Abilene, Texas; Dennis Jernigan, '81, Muskogee, Okla.; Nathaniel McGuire, '74, Del City, Okla.; Dr. Ed Minars, ex '49, Arlington, Texas; and Nancy Shelton, '70, Muskogee.
Inductees into the OBU Faculty Hall of Fame included Dr. John William (J.W.) Jent, Dr. Shirley Jones, Clair R. McGavern, Jaunita Proctor and Dr. Tom Wilks.
Whitlock noted the lives of the recognized alumni and faculty fulfill the university's mission: to transform lives by equipping students to pursue academic excellence, integrate faith with all areas of knowledge, engage a diverse world and live worthy of the high calling of God in Christ. He thanked those honored for faithfully living out the mission so well.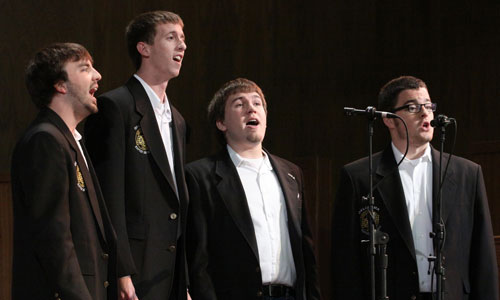 While celebrating past successes of OBU's people, Whitlock noted the university also continues to look to the future, seizing a God-sized vision for expanding the reach and influence of OBU by adding new academic programs, improving facilities on the campus and shaping minds which will transform the culture. He referred to the story in Genesis 21:22-34 in which a king named Abimelech seeks Abraham in hopes of establishing a treaty between them. The Scripture passage provides practical ways believers can practice Christian responsibilities.
First, Whitlock said, the passage provides practical lessons in how a follower of God ought to dwell with and deal with neighbors. During their relationship, Abimelech witnessed that Abraham's God forgave and restored his people and listened to their prayers.
"Abraham was being watched carefully," Whitlock said. "So the lesson of neighbors for believers is this: Others are watching us. Others are observing us, and they are observing how we conduct ourselves."
Whitlock said believers should realize they are recognized as people of their word, so they should be trustworthy. The final lesson regarding neighbors is that honest communication leads to problem resolution.
He also spoke to the lesson of the lambs. To ratify the peace treaty, Abraham takes sheep and cattle and gives them to Abimelech, setting apart seven ewe lambs (Genesis 21:28). Abraham tells Abimelech the seven lambs are a reminder and a testament to the agreement. Throughout the Bible, the number seven signifies perfection and completion.
"I am struck with this simple lesson for those of us who are called Christians," Whitlock said. "We, too, have an oath, a covenant of peace -- a covenant made, paid for, and guaranteed by the Almighty through his perfect Lamb of God, Jesus Christ, who was the divine sacrifice in completion of our salvation. Through him, our salvation is complete."
The final lesson of the passage, Whitlock said, comes from the tamarisk tree, which Abraham planted at the place where the covenant was reached. Tamarisk trees are known for their stamina and long life, as well as their dense leaf cover which provides ample shade. A mature tree can live to be more than a hundred years old -- a life possibly longer than the one who planted it.
"There's something noble and admirable about a tree-planter," Whitlock said, noting the people recognized during the chapel service represent generations of "tree-planters" on Bison Hill. "Tree-planters do their work for the benefit of others. They are people who are not given to instant gratification, but they take great delight in future enjoyments -- even in the future enjoyments of those they may never even know."
Just as Abraham planted a tree with a vision for the future, Whitlock asked the alumni, friends and community of OBU to resolve anew to be planters of trees for future generations.