Trustees Approve First Phase of Housing Village
October 7, 2011
Paving the way for a new student housing village, Oklahoma Baptist University trustees approved plans for three on-campus construction projects during their fall semester meeting on the campus in Shawnee Oct. 7.
Board members granted OBU administrators the authority to begin construction when funding is available for the first phase of a student housing village, a new nursing/allied health center, and relocated and enhanced intramural fields.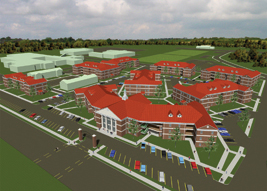 Creation of the residential village will begin with construction of three new apartment buildings adjacent to OBU's MacArthur Apartments, said Randy L. Smith, OBU executive vice president for business and administrative services. The buildings will accommodate a total of 230 students. When all phases of the construction are completed, the overall complex will accommodate 690 students in eight new apartment buildings.
The apartments offer individual bedrooms for students in three-, or four-bedroom units. Each apartment includes a common living area, a kitchen, and two bathrooms. Each building will offer two safe rooms as well as laundry facilities.
Construction of the first three buildings of the complex has a projected cost of $10.2 million. Smith said OBU is exploring financing options for the project. He projects that groundbreaking for the buildings could occur early in 2012.
The proposed nursing/allied health building is a two-story, 31,187-square-foot building to be constructed at the southwest corner of the MacArthur and Kickapoo intersection on the east side of the OBU campus. The building will include classroom, laboratory and office space for the university's College of Nursing, which has had consistent enrollment growth in recent years.
OBU officials say construction on the academic facility will begin after funding is secured for the project, which has a projected cost of $8.4 million.
With the inclusion of plans for a football stadium on the west side of the campus, OBU will move existing lighted intramural fields to the northeast portion of the campus, north of MacArthur Street, just west of commercial buildings along Kickapoo Street. The intramural complex will offer fields for flag football, soccer, lacrosse and softball; four volleyball courts; a parking lot and restroom/safe room/storage facilities. The $1.1 million project will include relocation of lighting currently at the existing intramural fields along MacArthur Street west of OBU's Agee Residence Center.
In other action, trustees approved tuition and fees for the 2012-13 academic year, continuing the practice of announcing costs for the upcoming year to provide advance notice for prospective students and their families.
"By setting costs in the fall semester, we are responding to a desire by high school seniors who are seeking to make a college choice," Smith said. "This information helps the students and their families make an informed decision. We are confident that an OBU education is a great value and we want prospective students to make well-informed decisions."
The university's tuition for full-time students will increase by 5.0 percent, from $17,994 this academic year to $18,894 for the upcoming year. The overall costs, which include tuition, fees, room and board, will increase by 4.81 percent, from $25,756 in the 2011-12 year to $26,996 for 2012-13.
Trustees also voted to update the university's student handbook by removing a regulation regarding dancing. The existing policy stated "The traditional position of Oklahoma Southern Baptist churches is reflected by University policy which prohibits dancing on campus. University organizations may not sponsor dances off campus." The board's student development committee recommended removal of the regulation after the committee completed a study which began in the fall of 2010.
In his state-of-the-university address, OBU President David W. Whitlock reported on fall enrollment growth.
"We have a total of 476 first-time freshmen, our largest freshman class in 15 years," Dr. Whitlock said. "Our overall headcount enrollment this semester is 1,871. That is a 5.3-percent increase over last fall's total of 1,777 and represents our fourth consecutive year of increased enrollment."
The board members formally commended several accomplishments by OBU personnel since the May 2009 inauguration of Whitlock as OBU's 15th president.
The board's statement noted "An outstanding group of freshmen faculty members has been recruited to join an already established world-class faculty of scholars and teachers, and significant successes have been recorded in university advancement, including the largest single cash pledge in OBU history.
"Efforts of the administration to develop and foster strong partnerships and relationships with Oklahoma Baptist churches have resulted in vibrant and strong support for OBU. Our commitment to implement the strategic plan adopted in 2009, 'OBU 2020: Vision, Mission, and Values,' is serving well to advance the mission of OBU into the 21st Century."
The trustees also stated, "We believe that these and other significant accomplishments are the result of visionary strategic planning, open communication, and extraordinary collaboration between the board and the administration. The future of OBU is bright and these are exciting days for Bison Hill. In addition to other achievements, these successes testify to us of the favor and blessing of our Lord upon Oklahoma Baptist University."
Trustees also approved OBU objectives for the 2012-13 academic year. The objectives are based on seven initiatives the university created as part of the OBU 2020 long-range strategic plan.
Board members ratified contracts for four new faculty members who joined the university since the board's May 2011 meeting. The faculty include Ronald A. Johnson, associate professor of electronic media production and production manager; Leslie Dane Thomas, assistant professor of theatre and design technician; Dr. Jeffrey A. Wells, associate professor of theatre; and Sarah L. Marsh, assistant professor of mathematics.
The meeting was moderated by the board's chair, Dr. Reagan Bradford Sr., a medical research physician from Edmond, Okla.
Board officers for the 2011-12 year were elected at the close of the meeting. Bradford will serve a second one-year term as chair. Danna Humphreys, a homemaker and civic volunteer from Oklahoma City, will be vice chair. Todd Fisher, senior pastor of Immanuel Baptist Church in Shawnee, will serve as board secretary. Greg Clifford, an accountant from Oklahoma City, was elected board treasurer.
Stephen Allen, a Tulsa attorney, was elected as a trustee advisor. Allen, who served as an OBU trustee from 2006-10, will serve in advisory capacity for the 33-member board.