OBU Launches Shawnee Phase of Capital Drive
October 27, 2011
Several area business and community leaders met on the OBU campus Monday, Oct. 24, to kick off the Shawnee phase of OBU's $42 million capital campaign. The Vision For A New Century drive is the largest ever undertaken by the 101-year-old Shawnee-based institution.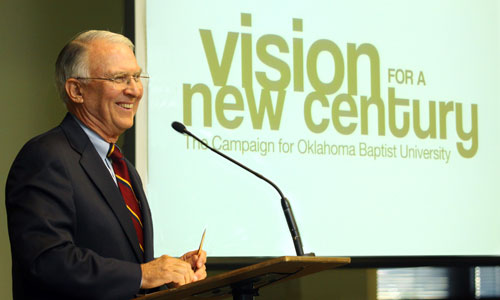 The Shawnee phase of the campaign has a base goal of $1 million and a "challenge" goal of $1.5 million. Major objectives in the overall campaign include construction of two new buildings, renovation or expansion of three existing structures, and growth of the university's endowment funds, which generate income for student scholarships and other ongoing needs.
"This is a great opportunity to demonstrate our appreciation and pride toward the university," said Bill Ford, president of Shawnee Milling Company and chair of the Shawnee campaign. "I think we will reach and even exceed our top goals as the people in Shawnee are provided the opportunity to support this worthy cause."
The campaign's new construction projects include a nursing/allied health building and a student services center. The nursing/allied health building, to be constructed at the southwest corner of the MacArthur and Kickapoo intersection, will house OBU's rapidly growing College of Nursing. Construction of the student services center will be southeast of the intersection of MacArthur and Raley Drive.
Renovation and expansion of the W.P. Wood Science Building, renovation of Ford Music Hall, and renovation and re-purposing of Agee Residence Center also are included in the campaign objectives. Agee Residence Center, the main OBU men's housing facility, will be converted to house administrative and athletic areas. The dormitory will be renovated in phases as the university completes a new student housing village north of MacArthur Street. OBU trustees approved construction of the housing village during their Oct. 7 meeting on the campus.
OBU President David W. Whitlock told the luncheon guests that the university was addressing identified needs for the campus community, including growth of endowment funds to provide greater support for student scholarships.
Dr. Whitlock also recognized the Shawnee Campaign's executive leadership team. Land developer Paul Milburn, and his wife, Ann Milburn, civic volunteer, are serving as honorary chairs. Others on the executive leadership team are Jim Antosh, president of Round House Manufacturing, leadership gifts division chair; Roger Henson, Shawnee attorney, major gifts division chair; and Sue Winterringer, civic volunteer, special gifts division chair.
"Approximately 150 individuals will be contacted personally and an additional 350 individuals will be contacted through mail and special events and asked to financially support this campaign," said Bill Holley, OBU associate vice president for university advancement.
Founded in 1910, OBU has operated in Shawnee since it first offered classes. Local civic leaders negotiated with leaders of the Baptist General Convention of Oklahoma to have the convention's one university located in Shawnee. The initial campus of 60 acres included one building, now known as Shawnee Hall. Today, OBU's 200-acre campus includes 34 major buildings. OBU's overall enrollment for the fall 2011 semester totals 1,871 students, representing 38 states and 27 other countries.
"We are so proud of the relationship between the Shawnee community and the university," Whitlock said. "We anticipate that that relationship will continue to be strengthened through this campaign effort."