Students Tackle Fall Intramural Sports
September 22, 2011
While the return of varsity football is still two years away on Bison Hill, OBU students have embraced the gridiron season with overwhelming participation in flag football, among other fall intramural sports.
Matching the soaring enrollment for the freshmen class, a larger-than-normal number of freshmen men and women have engaged in OBU's McDowell Family Intramural Program, said David Gardner, program coordinator for intramural sports and recreation. About 450 students, or nearly 25 percent of OBU's overall student body, are playing intramural flag football this fall.
"Intramurals is truly a great way to get involved with the OBU community in an atmosphere where fun is the goal," Gardner said. "Students, faculty and staff are all encouraged to be a part of the OBU intramural experience which is sure to provide many positive memories of campus life as it achieves physical, social and spiritual well-being."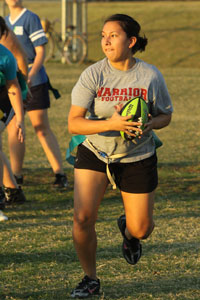 OBU sophomore Tracy Hernandez readies for a pass during an intramural flag football game. Hernandez is from Stilwell, Okla.
New for fall 2011, Gardner launched an interactive website that has created buzz by allowing players to register online, as well as follow game statistics and MVPs. In addition to the ever-popular flag football, the OBU community is invited to participate in several other sports during the fall semester, including tennis, putt-putt golf, racquetball, volleyball, soccer, ultimate Frisbee, kickball, three-on-three basketball and ping pong. A variety of other sports will be offered during January Term and the spring semester.
The McDowell Family Intramural Program attempts to offer something for everyone on the OBU campus. Annually, more than 600 students, faculty and staff participate in some form of team or individual sports activity. The program offers participants the opportunity to develop skills; maintain health and fitness; release stress through vigorous activity; enhance socialization by playing with and against others; promote sportsmanship, cooperation and team spirit; and have fun.