OBU Ranks as Exclusive Oklahoma 'Best Value' on U.S. News List
September 13, 2011
OBU has been ranked as the only Oklahoma college or university on U.S.News & World Report's annual ranking of "Great Schools, Great Prices" for 2012. OBU also has been listed as Oklahoma's highest-ranked college in "Best Regional Colleges" for the 18th consecutive year.
OBU has made the news magazine's "top 10" in its category for 20 consecutive years. The exclusive rankings, which include more than 1,400 schools nationwide, are available today, Sept. 13. They also will be published in the 350-page 2012 edition of the Best Colleges guidebook, on newsstands Sept. 20.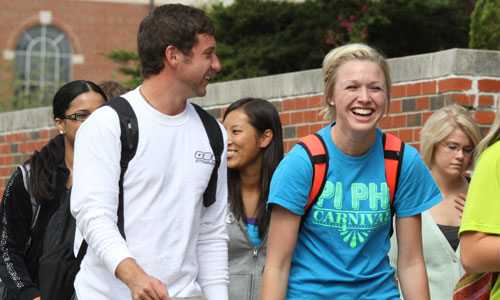 "As OBU moves into its second century, we continue to build the vision for tomorrow on the long-standing excellence that has garnered attention from rankings such as U.S.News & World Report for many years," said OBU President David W. Whitlock. "I congratulate the faculty, staff and students on Bison Hill for their faithfulness to the mission of OBU, which reflects our commitment to the highest quality in a Christian liberal arts education."
Over the past two decades, the U.S. News college rankings, which group schools based on the Carnegie Classification of Institutions of Higher Education, has grown to be the most comprehensive research tool for students and parents considering higher education opportunities.
"These rankings continue to affirm our long-standing tradition of academic excellence," said Dr. Stan Norman, provost and executive vice president for campus life. "They demonstrate the resolve of our faculty and staff to excellence in all things, and we celebrate all the hard work and sacrificial commitments that have made these achievements possible."
The calculation for "Great Schools, Great Prices" takes into account a school's academic quality, based on its U.S. News "Best Colleges" ranking and the 2010-11 net cost of attendance for a student who receives the average level of need-based financial aid. The higher the quality of the program and the lower the cost, the better the deal.
"Once again our position in the national rankings underscores the high academic quality and affordability of an OBU education," said Bruce Perkins, dean of enrollment management at OBU. "OBU is committed to investing heavily in our students. Nearly $8 million in scholarships has been awarded this fall, and student debt upon graduation continues to be among the lowest in the state, including at public universities. Students who are serious about their studies and who desire to integrate their faith with academics need to consider OBU as the premier option within the state when selecting a university."
According to information provided by U.S. News, the rankings system rests on two pillars. It relies on quantitative measures which education experts have proposed as reliable indicators of academic quality, and on the magazine's nonpartisan view of "what matters in education." First, schools are categorized by mission. U.S. News then gathers data from each college for up to 16 indicators of academic excellence. Each factor is assigned a weight that reflects the magazine's judgment about how much a measure matters. Finally, the colleges in each category are ranked against their peers, based on their composite weighted score. (A more detailed explanation is available on the U.S. News Web site.)
To sort colleges and universities into their appropriate ranking categories, U.S. News used the Carnegie Foundation for the Advancement of Teaching's recently announced changes to its highly respected Basic Classification. The 2010 update was the first major category revision by Carnegie since 2006. As a result, many colleges have switched ranking categories and some schools have been added to the rankings for the first time. The category changes were the main explanation for the biggest movements in this year's rankings.
For the first time, U.S. News included in the rankings all for-profit colleges and universities that grant bachelor's degrees and are regionally accredited. These include many schools that have large online bachelor's degree programs.