Freshman Class Enrollment Soars
September 21, 2011
OBU freshman enrollment soared to a 15-year high for the 2011 fall semester with a total of 476 first-time freshmen.
OBU's headcount enrollment of 1,871 students for the fall semester is a significant gain over the fall 2010 total of 1,777 students. The 2011 overall enrollment figure is the highest it has been since 2003 and includes students from 38 states and 27 other countries.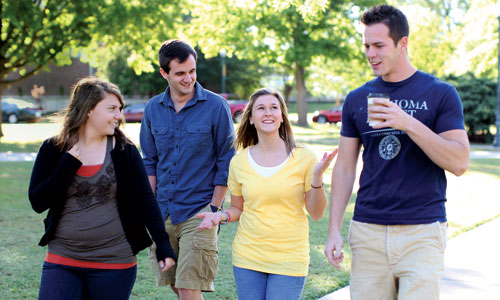 The number of freshmen increased by 15 percent from a total of 414 freshmen last year. The freshman class represents the largest total of first-time freshmen since 1996. The average ACT score for first-time freshmen was 23.9.
"We are thrilled at the increase in enrollment on Bison Hill this year," said OBU President David Whitlock. "This growth indicates students and parents recognize the value of a liberal arts educationin which students learn to integrate Christian faith with all academic disciplines. We are honored for the opportunity to walk alongside our students as each becomes what God intends."
"We appreciate the hard work and dedication of Bruce Perkins and his Admissions team," Whitlock said. "Each new and returning student at OBU is welcomed with personal warmth and sincere interest. We congratulate this team on its continued excellence."
The total enrollment includes 120 transfer students. The enrollment included 1,694 full-time undergraduate students. Full-time students are enrolled in at least 12 credit hours for the semester.
"We strive to provide the highest quality Christian education for our students with faculty members who are exceptional in their academic disciplines," said Dr. Stan Norman, provost and executive vice president for campus life. "We are confident that students come to OBU to align their God-given passions with world-class instruction and training in a variety of fields of study. The notable enrollment increase testifies that more students want to take this significant journey on Bison Hill."
The enrollment total included 69 students enrolled in OBU's Graduate School, which operates in downtown Oklahoma City offering master's degrees in business administration and nursing.
The total also includes 119 off-campus students who study through OBU's Joe L. Ingram School of Christian Studies. Sixty-eight of those are continuing students, and 51 are new students.
Twenty-nine students are studying through OBU's Intensive English Program, including eight continuing through previous studies and 21 new students beginning the program for fall 2011.