Professor, Students Minister in Russia
August 22, 2011
Fulfilling part of the OBU mission to integrate faith with knowledge and engage a diverse world, OBU professor Dr. Sherri Raney and students Rachel Raney and Zach Potts traveled to Russia during their summer break to minister alongside OBU alums Chris and Eileen Carr who serve as Bible teachers through a Southern Baptist agency.
The Global Outreach (GO) team was comprised of Dr. Raney, who serves as associate professor of history and political science; her daughter, Rachel, a psychology/pre-counseling major; and Potts, a pastoral ministry major from Grove, Okla. They spent May 18-June 2 on mission in Ufa, Bashkortostan, Russia. The trip was sponsored by OBU's Avery T. Willis Center for Global Outreach ("GO Center").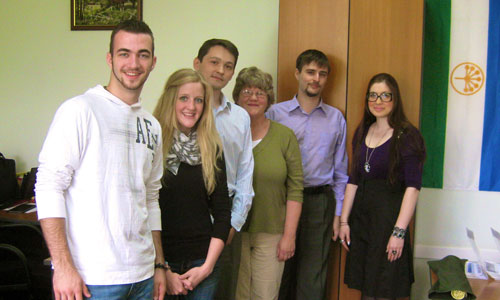 According to a website about life in Ufa, the people there place high value on relationships. They also tend to band together and treat outsiders cautiously. About half of Bashkortostan's population is Muslim. Following the ministry of the full-time Southern Baptist workers, the GO team invested much of their time building personal relationships with the people of Ufa in hopes of gaining an opportunity to share their faith.
"The GO team came and did exactly what I hoped they would do - hang out with people who aren't yet Jesus followers and allowed their lives to intersect through cultural exchange times, small-group Bible discussion times, English clubs, picnics, etc.," said Chris Carr. "It is important to me that we spend as much or more time with people who don't yet consider themselves as Jesus followers, than with those who do. Otherwise, we create an insulated Christian sub-culture and cease to be salt and light and no longer incarnate the good news as Jesus did.
"The GO team helped plug into this approach and philosophy very well! Jesus is not a product to sell or consume -- he is our God who wants to know us and be known, and that is all about relationships and strategically verbalizing faith issues in a wholesome/gladsome/magnetic way, which the GO team did."
While in Ufa, the team lodged with the Dzuba family: Andrei, Elvira, David, Angela and Christina.
"I learned so much about regular life for believers in Russia, love, and sacrificial hospitality from the Dzubas," Raney said. "Elvira cooked breakfast for us every morning even when her son was not feeling well and even during the days when we had no hot water because it was the week that the pipes in their neighborhood were being worked on. Some things have not yet changed since Soviet times!"
In addition to visiting an "English Club" attended by about 50 local citizens, the team went to the American Bashkir Intercollege (ABIC), Terra Language School and House of Prayer Church. They also met with Ufa international economic development officials. The director of the ABIC, who also runs a summer camp for underprivileged kids so they can study English and American culture, invited the GO team to return to Russia to work in the camp.
Natalia, the founder of Terra Language School, gave Raney a book and said she welcomed the team into her school because as a fellow educator, she considered Raney a colleague.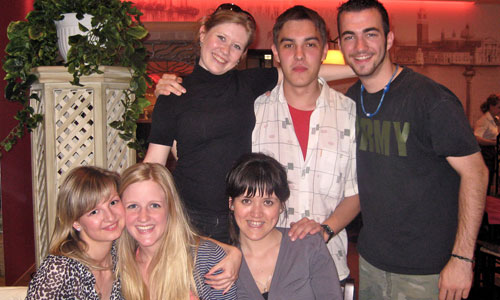 "One of the students was a psychiatrist," Raney said. "She brought her 9-year-old daughter who did a Bashkir folk dance for us and sang a Russian folk song. Elvira wanted me to sing for her and the 12-year-old Vietnamese student. In this setting, all I could think to sing was 'Jesus Loves the Little Children of the World'!"
On their last day in Ufa, Sherri and Rachel Raney went for a walk. On the sidewalk across the street from the Carrs' building, they met a student named Kate from one of the classes they had visited.
"She was so excited she almost cried to be meeting one-on-one the Americans she had seen up in front of her class," Sherri Raney said. "Rachel was able to write down for her the information about the English Club that meets in the Carrs' home. She was so thrilled she told us that she was going to tell her teacher that she had met the Americans, and she was going to tell all her friends and classmates about the opportunity to practice English with the Carrs. … As Chris said, running into Kate out of the literal million people in Ufa was really a 'God thing'!"
Carr applauded the GO team for showing flexibility regarding the schedule, timing and activities, which he said can be very difficult for many American believers who are overly conscious about time and planned projects.
"It takes much longer with most people here to unpeel the layers of worldview influence that blind them to the good news," Carr said. "Thanks for spending time with people, investing yourself in them, and helping us try to sow the seed of the gospel in the good soil," he told Raney, referring to the gospel analogy in Mark 4:3-20.
Chris Carr graduated from OBU in 1986 with a bachelor's degree in religion, and Eileen Carr graduated in 1997 with a bachelor's degree in Christian studies. In 2006, the Carrs served as mission representatives on Bison Hill, tasked with engaging students, faculty and staff related to mission information and endeavors. Through the experience they gained many friends and colleagues, including Raney, who have remained interested in their work in Russia.
"We both have fond memories of our time on Bison Hill and continue to believe in the vision, mission and values of OBU," Chris Carr said. "We are hoping for development of a ministry partnership between OBU, our team and local churches/believers here in Ufa to develop in the coming years, including additional GO teams. It would be the highest honor for us to one day be able to invest ourselves in the lives of students by mentoring and training them missiologically and practically on Bison Hill, regardless of their vocational calling from God."