OBU Tops Forbes' Best Colleges in Oklahoma
August 16, 2011
For the fourth year in a row, OBU is the highest-ranked university in Oklahoma in the latest Forbes.com listing of "America's Best Colleges." OBU ranked third among Baptist-affiliated schools.
Nationwide, OBU ranked 299th on the "America's Best Colleges" list among 650 undergraduate institutions rated by Forbes.com. OBU was listed as No. 245 among private colleges and No. 75 among colleges in the South.
The listings are based on an assessment of the quality of the education universities and colleges provide and how much their students achieve, according to the company's website. The rankings of the schools -- the top 20 percent of all undergraduate institutions - are exclusively prepared for Forbes by the Center for College Affordability and Productivity (CCAP), a Washington, D.C., think tank.
Six other Oklahoma universities were listed in the rankings. The University of Tulsa was at No. 344, Oklahoma State University at No. 416, University of Oklahoma at No. 453, Oral Roberts University at No. 456, Oklahoma Wesleyan University at No. 500, and University of Central Oklahoma at No. 631.
Other Baptist-affiliated schools on the "Best Colleges" list include Samford University at No. 255, Baylor University at No. 276, Georgetown College at No. 300, Ouachita Baptist University at No. 338, Cedarville University at No. 371, North Greenville University at No. 409, Mississippi College at No. 419, Mercer University at No. 448, Carson-Newman College at No. 507, Union University at No. 513, Belmont University at No. 523 and Liberty University at No. 535.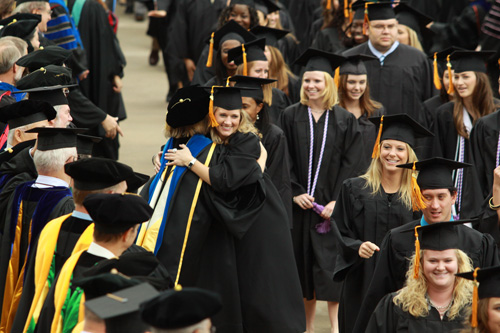 According to its website, Forbes.com launched the "America's Best Colleges" rankings as an alternative to the traditional rankings released annually by U.S.News & World Report. Forbes.com is related to the business and financial news magazine Forbes.
"Our annual ranking of the 650 best undergraduate institutions focuses on the things that matter the most to students: quality of teaching, great career prospects, graduation rates and low levels of debt," said Michael Noer, an editor for Forbes. "We try and evaluate the college purchase as a consumer would: Is it worth spending as much as a quarter of a million dollars for this degree?"
Noer said the rankings are based on five general categories: post-graduate success (30 percent), which evaluates alumni pay and prominence; student satisfaction (27.5 percent), which includes professor evaluations and freshman to sophomore year retention rates; debt (17.5 percent), which penalizes schools for high student debt loads and default rates; four-year graduation rate (17.5 percent); and competitive awards (7.5 percent), which rewards schools whose students win prestigious scholarships and fellowships such as the Rhodes, the Marshall and the Fulbright.
As noted during its first report in 2008, the Forbes.com ranking relies entirely on outside databases and surveys rather than on the involvement or cooperation of the colleges.
The full list can be found on Forbes' website by searching "America's Best Colleges."
For more information on the Forbes rankings and methodology, click here.