Nearly 500 Students 'Serve Shawnee'
August 23, 2011
Nearly 500 OBU students ministered through various activities Monday, Aug. 22, through "Serve Shawnee," an annual part of OBU's Welcome Week program designed to help new students engage the Shawnee community.
"Serve Shawnee" participants participated in a variety of service opportunities at about 14 locations city-wide including Salvation Army, Family Promise, Hope House, Good Shepherd, Project Gabriel, Age to Age, Cargo Ranch, Frontline, Central Oklahoma Community Action Agency, Sequoyah Elementary School, Colonial Estate, Community Gardens, Shawnee Care Center and Horace Mann Elementary School. Projects included clean up, mowing, painting, visiting the elderly, and interacting with youth and children. The City of Shawnee Community Development also benefitted by students painting areas that had been defaced with graffiti as well as trash pick-up in several locations.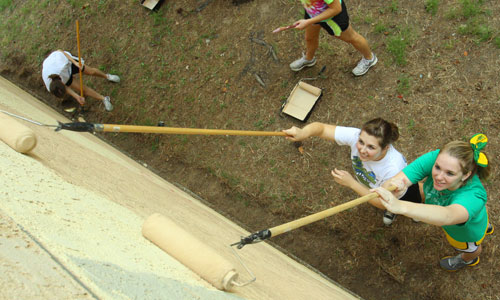 "This event provides incoming students with the opportunity to become aware of the needs in the community and ways in which they can become involved with future service projects," said Dr. Joy Turner, director of global mobilization at OBU. "It also helps them to feel more connected as they make the transition to OBU while at the same time impacting Shawnee with the 'touch' of Jesus."
The group was comprised of 380 freshman and transfer students who arrived on campus Saturday, Aug. 20, and about 100 upper class Welcome Week Workers, whose duties include acclimating new students to campus and the local community.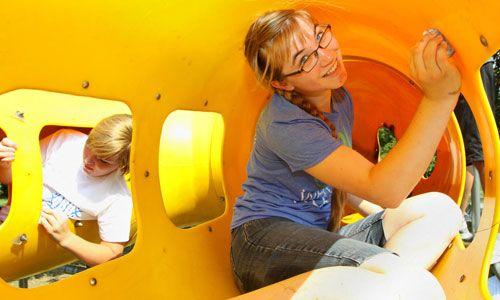 "We really appreciated that 11 different churches from Shawnee and OKC provided transportation," Turner said. "Without their help, this event would not be possible."
Welcome Week wraps for the new students with the traditional "Walk" from Shawnee Hall to Raley Chapel on Tuesday, Aug. 23; Spotlight on Shawnee on Thursday, Aug. 25; and Saturday in the Park on Aug. 27. Fall-semester classes begin at OBU Thursday, Aug. 25.