Compton Proclaims God's 'Overwhelming' Love
August 25, 2011
During OBU's first chapel service of the fall semester, Odus Compton told OBU students of the first time he unequivocally learned that God loved him -- and the first time he realized the overwhelming, redeeming nature of God's love. It's a love God has for all people, no matter what they have done, said Compton, director of student ministry at OBU.
The message was the first of three Compton is delivering in a series of chapel services called "Fall Challenge" at OBU. Fall Challenge traditionally opens the fall semester with a charge to the student body.
Compton told students that while growing up, he did not live in a home of Christian believers. It was a home life riddled with divorce, alcoholism and other problems, some which he chose for himself.
"I made a lot of bad choices, a lot of really bad choices," Compton said. "The effect on my life was mounting -- physically it was mounting, emotionally it was mounting, relationally it was mounting. I was starting to have discussions that maybe this is not the way to go. … And then someone introduced me to Christ."
Compton recalled how gracious people from a local church visited him while he was under the hood of his '57 Chevy, revving the engine. They offered to return the following week and followed through on their promise.
"They tell me the good news of Jesus Christ," he said. "They began to talk about the fact that God loves me and that he has a plan for me, but there is a problem. 'Do you sin?'"
While he jokingly said he could have offered them a resume full of his sins, he instead opened his life to the spirit of God and received Jesus Christ as his personal Savior. The decision was life-changing, but he still grappled with his old behaviors and lifestyle.
"Some of the crud didn't go away, some of those old patterns were still there," Compton revealed. "What started out as little paths in my life from decisions I had made had become not only ruts, but now they were four-lane super freeways or six-lane super freeways."
Compton said he had an internal battle between the old patterns and his new life in Christ.
Some of the choices he made, even as a young Christian, "ate at my soul," he said. But after he arrived at OBU as a student, he said God began to work in his life to bring to his attention the things he needed to change. Compton said he walked around campus wearing the weight of condemnation, afraid the people around him would discover his past mistakes. At the same time, he said he believes Jesus Christ was declaring his righteousness - which differs from "right living." He read Romans 8:1 as a reminder of God's promise of forgiveness: "Therefore, there is now no condemnation for those who are in Christ Jesus."
During a lunchtime devotion in OBU's Geiger Center, Compton heard a speaker talk about 1 John 1:9, which reads, "If we confess our sins, he is faithful and just to forgive us our sins, and to cleanse us from all unrighteousness." The speaker illustrated the passage comparing a person's life to a blackboard. When Christ forgives sin, he said, a person's life is wiped absolutely clean. Scouring the Scriptures for more of God's truth about his love, Compton said he felt overwhelmed with the love of God.
Compton said people's minds often put them in a position where it is difficult to hear the basic truth: God loves you.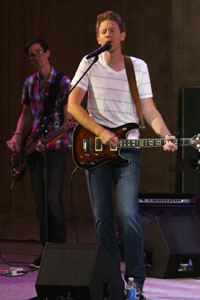 OBU alum Brent Minter leads worship with his band during OBU's first chapel service of the fall 2011 semester.
"Can you hear this morning that the Lord God Almighty has declared in every way possible -- ultimately by his own Son, Jesus, dying on the cross -- declared to each and every one of us, that no matter what you have done, no matter where you have been, no matter what you have participated in ... the up-front declaration is that He loves you," he said.
"I believe that God wants to use you to make an impact not only at this campus but to the very ends of the Earth," Compton said. "But that will never happen if you become 'religious' and if you've got all the right 'stuff,' and you've got all the right answers, and you walk all the right paths, but you don't have love."
Compton said the following two messages would discuss God as the source and giver of true love, and what flows out of that gift of love.
"We don't get love by something we do," Compton said. "We don't get love by hanging around the right crowd. We don't get love by being at the right school or singing the right songs. There is only one source. You don't earn it. You don't bargain for it. You just receive it."
In his second message, at 6 p.m. on Wednesday in Raley Chapel, Compton discussed the basis of love as found in 1 Corinthians 13. On Friday at 10 a.m. in Raley Chapel, his message will teach that the love of Christ affects how people minister to others, based on John 13:34-35.
Worship for the Wednesday Fall Challenge chapels was led by OBU alum Brent Minter and his band. Minter is a 2001 graduate. Worship for the Friday 10 a.m. chapel will be led by worship artists Bellarive. Friday night, Bellarive will present a concert at the University Concert Series Coffee Shop in Raley Chapel at 9 p.m.