Alums Assist with Construction of Denver Church Building
August 8, 2011
OBU encourages students and alums to engage in a diverse world, and alums George and Mary Kennedy are fulfilling that mission. The Kennedys recently donated finances and time to help renovate Globeville Community Church in Denver, Colo.
George Kennedy graduated from OBU in 1956 with a degree in political science, and then he attended Southwestern Baptist Theological Seminary. His wife, Mary Coffman Kennedy, graduated from OBU in 1957 with a degree in elementary education. Before retiring from their work in Claremont, Calif., George served as a pastor, and Mary was an elementary school teacher.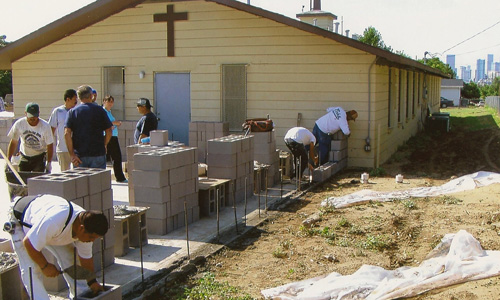 The Kennedys moved to Midland, Texas, in 2006 and became members of First Baptist Church. George became chair of the Church Partnership Committee and oversaw the distribution of funds to help small churches across the West, in the Northeast and in Canada. The church supported missions through the Southern Baptist Convention and sent monthly support to 18 small churches, including Globeville.
Globeville Community Church was founded in 1997 for the Spanish-speaking population of Denver. The church was able to acquire a small, run-down building that, with the help of many volunteers and donated furniture, was transformed into a beautiful chapel. Globeville is led by Pastor S.E. Silva, who moved to Denver from Venezuela. Silva said he always had dreams of constructing a building to serve as a community meeting place, a food pantry and a clothing distribution center for the needy.
George Kennedy kept in touch with Silva. In 2009, George learned workers were pouring a foundation for a new Globeville church building. The members of the church had very little to give, but they planned to build a 4,000-square-foot building.
"Having some funds from the sale of our home in California, we chose to buy the cement blocks and hire brick layers to get the walls up," said George. "In July 2009, I was there to see the walls start up, and it was a day of rejoicing. For the next 18 months, raising the money to complete the project became my mission."
By October 2009, a team of builders from Midland flew to Denver to frame the new building. In April 2010, another team from Midland went to Denver to work on tiling, roofing, laying baseboard, cabinetry, painting, decorating and cleaning.
The couple said it was amazing to see how God provided everything the church needed step by step. They said serving the church's people at this stage in life gave them great joy. They reported Globeville Community Church is now the most attractive structure in its neighborhood, and it has room for a food bank and a place to show family-oriented movies for all who will come. The building is debt-free because people saw the need and gave generously.
While the Kennedys have seen Globeville Community Church complete its building project, their personal missions adventures have not ended. After a recent move to Anthem, Ariz., they are seeking another small-church volunteer building project. After all, the Kennedys said their hearts are with the small churches in the West.