College of Nursing Receives $50,000 Butterfield Grant
July 8, 2011
Oklahoma Baptist University's College of Nursing has received a $50,000 grant from the Butterfield Memorial Foundation, a charitable organization committed to providing support to Christian non-profit organizations whose initiative addresses health and medical needs for vulnerable populations.
The Butterfield Memorial Foundation places priority on addressing the health needs of vulnerable populations primarily through local Christian free clinics; addressing the nursing shortage by providing nursing scholarships to Christian Universities in the United States; and addressing spiritual needs as an essential element to overall well-being.
"The funds from the Butterfield Memorial Foundation will be used totally for student scholarships, said Dr. Lana Bolhouse, dean of the OBU College of Nursing. "This grant will assist students who feel called as a nurse to complete their professional nursing education here. These funds also will help alleviate the financial stress for students who need more time to concentrate on their education rather than working too many hours during school. This financial assistance directly addresses the looming nursing shortage."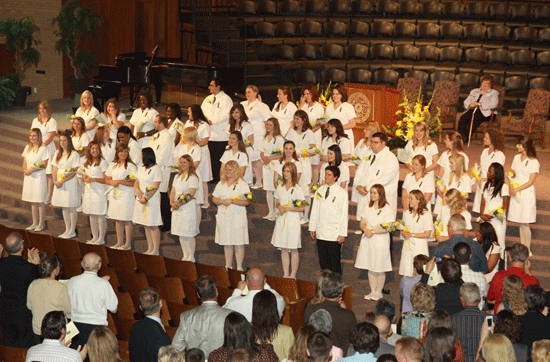 Difficult economic times and the continued shrinkage of federal and state assistance make paying for college a challenge for all students, including non-traditional students who struggle to pay educational costs while juggling family and work responsibilities. Currently 22 percent of OBU's nursing students fall in the "non-traditional student" category. During the 2010-11 academic year, 97 percent of OBU nursing students received some form of financial assistance. The foundation's grant will help ensure that junior and senior nursing students can complete their nursing education.
"OBU launched the state's first bachelor of science degree program in nursing in 1952," said Dr. Stan Norman, OBU provost and executive vice president of campus life. "Since its inception, the OBU College of Nursing has led Oklahoma in preparing graduates who live out a Christian ministry in their daily professions as nurses and nurse educators. Grants such as the generous gift provided by the Butterfield Memorial Foundation empower the College of Nursing to provide students a cutting-edge education with a Christian foundation. OBU nursing students learn firsthand how to integrate their faith with the critical thinking skills they gain through contemporary technology coupled with a liberal arts curriculum. Each graduate is well prepared to serve patients in the future."
Traditionally, more than 90 percent of OBU nursing graduates pass the NCLEX on their first attempt. The OBU College of Nursing pass rate for 2009-10 was 91.49 percent, above both the national average (87.42 percent) and the Oklahoma average (86.77 percent).
The College of Nursing exhibits OBU's mission to transform lives by equipping students to pursue academic excellence, integrate faith with all areas of knowledge, engage a diverse world and live worthy of the high calling of God in Christ. The Butterfield Memorial Foundation requests the scholarships from the grant be awarded to students who demonstrate a strong commitment to the Christian faith and see nursing as a means to use their gifts and skills as a ministry.
The Butterfield Memorial Foundation finds its roots in the Oklahoma Rescue Home, founded in Guthrie in 1900 by a group of Free Methodist women known as Deaconesses. The group felt strongly called to minister to women outcast by society. The Home relocated to Oklahoma City and grew rapidly, adding a nursing school in 1923. By the end of World War II, a building was set aside to house the medical part of the Home as a hospital facility, and the Deaconess Hospital was officially established. In 2005, the hospital board elected to sell the hospital, and the Butterfield Memorial Foundation was formed. The foundation is named for Rev. Ralph Butterfield, a longtime hospital administrator, and his wife, Gladys, a superintendent of the Home.
Learn more information about the OBU College of Nursing.
Find more information about The Butterfield Memorial Foundation.