Kelly Receives Distinguished Teaching Award
June 14, 2011
Dr. Bobby Kelly, Ruth Dickinson professor of religion at OBU, received OBU's Distinguished Teaching Award during the university's Spring Commencement May 13.
Kelly, who joined the OBU faculty in 1997 as assistant professor of religion, received the award from OBU President David W. Whitlock during the graduation ceremonies before an overflow audience of more than 1,800 in the university's Raley Chapel.
The highest honor for OBU faculty members, the Distinguished Teaching Award is presented to a faculty member who has taught at OBU for five consecutive years or more. This faculty member has exemplified in his or her teaching career those characteristics of the superior instruction delineated in the "Commitment to Excellence," a statement of teaching expectations and objectives adopted by OBU's faculty, administration and Board of Trustees.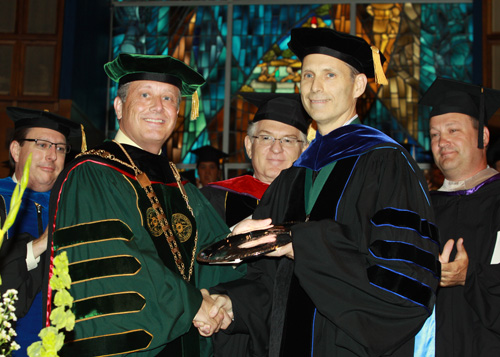 In presenting the award, Whitlock said Kelly, who received the Promising Teacher Award in 2000, is well respected by current students as well as OBU graduates.
"He is highly regarded by his former students as they often come back to him for counsel long after they have graduated from OBU," Whitlock said. "Current students at OBU, in a wide variety of majors, seek his counsel, in part, due to their excellent learning experience in his classes. New students routinely ask to enroll in his courses and students, both present and past, routinely sit on the bench in front of his office waiting to see him.
"He is highly involved in campus life, interacts with his fellow teachers and participates in activities that enhance his ability to teach."
Kelly earned his bachelor's degree from Clear Creek Baptist College. He earned his master's degree and doctorate from Southwestern Baptist Theological Seminary. He received senior faculty status at OBU as associate professor in 2003 and was promoted to professor in 2009. He teaches courses in New Testament, biblical hermeneutics and Greek, among others. He has served as chair of the Faculty Council, regularly publishes articles and has been an interim pastor of several churches.
Each year at Spring Commencement, OBU presents three important awards to recognize quality teaching and faithful, productive service: the Promising Teacher Award, the Meritorious Service Award and the Distinguished Teaching Award. Nominations for the awards are made by alumni, current students, faculty and administration. In addition to public recognition and a token of the university's appreciation, the recipients receive cash awards provided by OBU graduates John and Janet Hudson of Edmond, Okla.