Gabrielse Named Dean of Fine Arts College
June 1, 2011
Dr. Ken Gabrielse, worship and music specialist for the Baptist General Convention of Oklahoma, has been named dean of OBU's Warren M. Angell College of Fine Arts, President David W. Whitlock announced Wednesday, June 1.
Gabrielse, 53, succeeds Dr. Paul Hammond, who announced his retirement this spring after serving as dean for 25 years, since 1986.
"We are pleased to welcome Dr. Gabrielse to OBU and look forward to working with him to advance the mission of Christ-centered liberal arts education, particularly as that mission takes shape through our excellent fine arts programs," Dr. Whitlock said.
As dean of the College of Fine Arts, Gabrielse will direct the instructional and administrative activities of the Division of Art, the Division of Communications, and the Division of Music.
"Dr. Ken Gabrielse brings a wealth of academic and professional experience to the position of dean of the Warren M. Angell College of Fine Arts," said Dr. Stan Norman, provost and executive vice president for campus life. "His commitment to excellence in all things has marked his areas of professional service both in the academy and the church."
Gabrielse attended Phillips University in Enid, Okla., for two years before earning a bachelor's degree at William Jewell College in Liberty, Mo., with a degree in church music and music education. He earned a master's degree and a doctorate at New Orleans Baptist Theological Seminary with a specialization in conducting. He previously served as chairman of the Division of Church Music Ministries and professor of church music at the seminary. As a tenured professor, he directed and taught Seminary Chorus (SATB), Seminarians (TTBB) and Handbell Choir; all levels of conducting courses, including classes and private lessons; and Choral Techniques, Choral Literature, Jazz Ensemble, Music Theory, Music History, and Worship Planning and Leadership courses.
"Dr. Gabrielse has a breadth of understanding of and deep appreciation for Christian liberal arts, and I am confident that he will build upon and enhance the great fine arts programs for which OBU is renown in the tradition of Angell, Woodward and Hammond," Norman said. "He is a visionary and creative leader, and we believe he is the right person to lead the College of Fine Arts at Oklahoma Baptist University to the next level of Christian, academic excellence."
In his role at the Baptist General Convention of Oklahoma (BGCO) since August 2008, Gabrielse has provided training for music leaders in Southern Baptist churches in Oklahoma. He has helped lead several specialty events and conducted performing groups for music leaders in the BGCO including the Singing Churchmen of Oklahoma, a 300-voice men's choir; Singing Churchwomen of Oklahoma, a 400-voice women's choir; and Oklahoma Baptist Symphony, a full, auditioned symphony.
"Dr. Gabriesle has served us well in the short time he has been with us," said Dr. Anthony Jordan, executive director-treasurer of the BGCO. "When the deanship at OBU came open, it was clear he would be a leading candidate. He served as dean of the music school at New Orleans Seminary prior to joining the convention staff. His gifting, training and work history make him an outstanding selection by OBU. While we regret his leaving, we believe God has placed him in a unique opportunity to shape church music in Oklahoma through the students at OBU. We wish him the best as he serves in this strategic position at our university."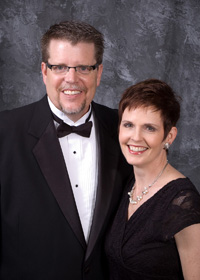 Long-time servants in Southern Baptist life, Dr. Ken Gabrielse and his wife, Jana, have two grown children.
Gabrielse began his church music ministry career as a music intern and interim minister of music at Emmanuel Baptist Church in Enid in 1979. Since then, he has served in various music ministry roles including interim and associate positions at First Baptist Church, Raytown, Mo., and Immanuel Baptist Church, Independence, Mo. He served in full-time ministry at Covenant Baptist Church, Topeka, Kan., and Sharon Baptist Church, Wichita, Kan. While completing his degrees and working at New Orleans Baptist Theological Seminary, he served at West St. Charles Baptist Church, Boutte, La.; First Baptist Church, Chalmette, La.; and First Baptist Church, Kenner, La. He also has served as interim minister of music at First Baptist Church, Lawton, Okla.
He has served as conductor and guest conductor for numerous national, state and entity events across the Southern Baptist Convention, as well as local special events. He has directed and produced several recordings by The Seminarians of New Orleans Baptist Theological Seminary. Among his responsibilities at the seminary, he served on the transitional leadership team following Hurricane Katrina, charged with developing curriculum and pedagogy that allowed the seminary to continue teaching during the displacement in 2005-06.
"I am honored to be asked by Dr. Whitlock to lead the Warren M. Angell College of Fine Arts, its gifted faculty, and dedicated and vibrant students," Gabrielse said. "I am humbled to follow in the legacy established by Deans Conte, Angell, Woodward and Hammond. Growing up in Oklahoma, coming to OBU and going to Falls Creek to sing under the direction of Dean Angell and Professor Woodward, and working with OBU faculty and graduates at every turn of my professional career has given me a tremendous appreciation for the heritage of faithful training in the arts that takes place on Bison Hill.
"The present and future challenges of fine arts training within a Christian liberal arts institution are great," he said. "Raising up successive generations of dedicated and professional Christian artists (in and out of the church) is a high calling. The challenges will be met and the calling fulfilled by God's gracious favor. Jana and I are thrilled to be a part of the OBU family."
Gabrielse and his wife, Jana, have two children and their spouses, Matthew and Brandy Gabrielse of Oklahoma City, and Andrea and Ronald Laitano of New Orleans, La. They have one granddaughter, Adelaide Lee Laitano, born Feb. 2, 2011.