OBU Crowns Intramural King and Queen
May 23, 2011
OBU's McDowell Family Intramural Program crowned its first royalty in May, with sophomore Cody Potter from Miami, Okla., named king and sophomore Courtney Buchanan from Shawnee, Okla., named queen.
As students participated in the intramural sports throughout the 2010-11 academic year, they earned points to be eligible to compete for the crown. The top 10 male and female point earners competed in a variety of sports to determine the royalty.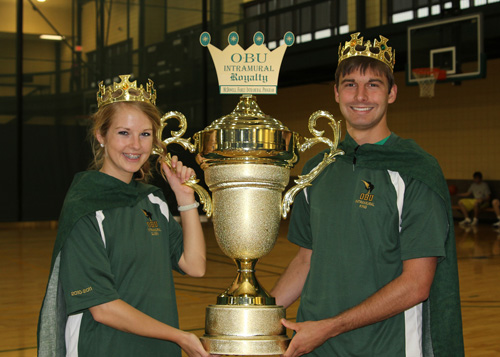 The McDowell Family Intramural Program attempts to offer something for everyone on the OBU campus. Annually, more than 600 students, faculty and staff participate in some form of team or individual sports activity. The program offers participants the opportunity to develop skills; maintain health and fitness; release stress through vigorous activity; enhance socialization by playing with and against others; promote sportsmanship, cooperation, and team spirit; provide friendly cooperation; and have fun.