Nursing Graduates Receive Pins
May 12, 2011
In a tradition symbolizing the transition from student life to a professional role, 46 OBU nursing students participated in the Spring 2011 Nurses' Pinning Ceremony Thursday, May 12, in Raley Chapel's Potter Auditorium.
Designed by the Class of 1956 -- the university's first class of nursing graduates -- the OBU nursing pin is awarded to graduates by Dr. Lana Bolhouse, dean of the School of Nursing. The pin features a white Roman cross centered on a black background.
Returning to her alma mater, the Pinning Address was presented by Nichole Renshaw Jackson, who earned a bachelor's degree in nursing from OBU in 2007 and a master's degree in nursing from the OBU Graduate School in 2011. Jackson has worked as a nurse at Integris and now teaches in the nursing program at the OSU-OKC campus.
"While graduating with a bachelor's degree in nursing is quite an accomplishment, graduating with a bachelor's degree in nursing from OBU is even more rewarding," Jackson said. "OBU is truly a place where students are taught to critically think, lifelong friendships are formed, and where people are equipped for their life's journey. This campus is special, and the educators here have a genuine concern for their students and their educational experiences. I'm glad that each of you can be called a Bison."
Jackson told the graduates that God truly has a plan for each of them, quoting from a Scripture found in Jeremiah 29:11, "'For I know the plans I have for you,' declares the Lord, 'plans to prosper you and not to harm you, plans to give you hope and a future.'"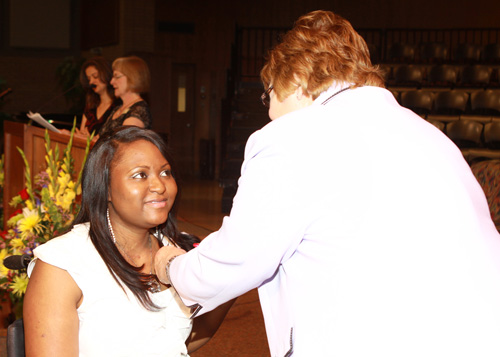 "Our God is faithful," she said. "He fills us with potential and invests in our individual beings. So as you sit here today, it is a fact: God has a purpose for you, for which you are fully equipped. You are brimming with potential, and it is now your turn to make a mark on the world, to create change, to make a difference in someone else's life. You have completed your nursing education and are now prepared, as best as can be, to enter the profession of nursing."
Jackson said whether the graduates choose the path of administration, education, clinical nursing, community nursing or missionary service, nursing is a versatile profession that has a place for each of them. She encouraged them to remember that compassion is a central aspect of nursing, and that a nurse who fails to offer compassionate care fails not only the patient, but also himself or herself. She also reminded the graduates that nursing is a service profession.
"Each of you will make a difference in numerous lives throughout your career," Jackson said. "You will see patients and families experience the happiest of times, as well as the saddest of moments. You will be there to hold a hand, to give a hug, or just to listen. You will be a patient advocate and encourager, a bed-side teacher and a lifesaver, all on one shift."
For chapel messages, follow this link.
Jackson offered the graduates some nurse-to-nurse advice, including reminders to have a sense of humor, to care for patients as they would their own family members, that frequent hand-washing saves lives, to wear good shoes and to be nice to nursing students. She told the graduates to remember their calling and that God, indeed, has a plan for each of them.
Following the address, graduates were individually introduced by Dr. Robbie Henson, professor of nursing, and Krista Ranck, instructor of nursing. Graduates were pinned by Bolhouse and given a single yellow rose by Valarie Watts, assistant professor of nursing.
Dr. Jasmin Johnson, associate professor of nursing, delivered the charge to the students to take on the transformation of the nursing profession with humility and the kind of wisdom spoken about in the Book of James.
She offered them a blessing found in Numbers 6:24-26, "The Lord bless you and keep you; the Lord make his face shine on you and be gracious to you; the LORD turn his face toward you and give you peace."
Nursing seniors who received their pins included: Joanna Alice Back, Albuquerque, N.M.; Kathleen Marie Biddy, Edmond, Okla.; Danielle Nichole Boboltz, North Richland Hills, Texas; Summer R. Cash, Tecumseh, Okla.; Andrea Catharine Collum, Shawnee, Okla.; Jenny Elizabeth Deaton, Oklahoma City; Channing Krystine Denton, Plano, Texas; Kari Ann Detjen, McLoud, Okla.; Taylor Ryne Dickinson, Enid, Okla.; Jeni Dianna Glasco, Noble, Okla.; Sarah Elaine Griffin, Bartlesville, Okla.; Stephanie Emma Guilmette, Strafford, N.H.; Amanda Lauren Hanner, Shawnee; Kathryn Susette Huddleston, Fort Worth, Texas; and Rita Ann Hunnicutt, Shawnee.
Also receiving their pins were Cornelia Ifeyinwa Igbokwe, Shawnee; Connor Alan Inskeep, Ponca City, Okla.; Kathryn Marie Keller, Collbran, Colo.; Samantha Lea Kellogg, Shawnee; Mary Hanna Kunes, Crested Butte, Colo; Mayra Janet Lane, Duncan, Okla.; Morgan C. Lucas, Chandler, Okla.; Meghan Lacey McCabe, Visalia, Calif.; Kelsey Nicole McNeely, McKinney, Texas; Fausat Faith Momodu, Fort Worth; Torie Lyn Moore, Edmond; Kylie Renee Noble, Olathe, Kan.; Elizabeth Yetunde Oke, Arlington, Texas; Modupe Mary Okonofua, Arlington, Texas; Oluwafisayo Adesola Oni, Houston, Texas; Kelli Latrell Owens, McLoud; Xiomara Jacqueline Porras, Bethany, Okla.; and Anna Elise Pruitt, Stillwater, Okla.
Others honored with pins included Haley Nicole Rachal, Shreveport, La.; Shelbe Rhea Richardson, Midland, Texas; Robyn Elaine Rieger, Burleson, Texas; Emily Katherine Roberts, Guymon, Okla.; Sharon Marie Shepard, Broken Arrow, Okla.; Bethany Rose Slagle, Boynton, Okla.; Amy Lynn Sullivan, Tecumseh; Katherine Elise Unruh, McPherson, Kan.; Martín Lorgio Villafana, Blanchard, Okla.; Lori Michelle Wells, Prague, Okla.; Brittany Dea White, Mounds, Okla.; Melissa Faye Wilson, Wellston, Okla.; and Leslie Rae Wrinkle, Great Bend, Kan.