McCarthy Urges Students to 'Go'
May 9, 2011
While some OBU students have decided to participate in global missions endeavors this summer to spread the Gospel, others are still trying to make up their minds about whether or not to go. Still others have made the decision to stay home.
Dr. Teri McCarthy, chair of the English Language and Literature Department at LLC International University in Klaipeda, Lithuania, recently presented dramatic statistics of unreached people groups to plead for students to reconsider their decision to not go on a mission venture.
There are 1.2 billion people in the world who have never heard the name of Jesus, McCarthy shared. She spoke during an OBU chapel service on Wednesday, April 27, dedicated to commissioning OBU students who will engage in missions or ministry during the summer.
"God has asked us to participate with Him in getting the Good News out," McCarthy said.
For chapel messages, follow this link.
She explained God is not searching for only the brightest and the best people to spread the Gospel, or the smartest and the most talented people, but He is also looking for imperfect and complicated people who are simply willing to serve Him.
"God does extraordinary things through ordinary people," McCarthy said.
She shared about her own calling to the mission field. She said she was enjoying life and was busy making her own plans for a future in journalism when she felt convicted from God about traveling to China. She was resistant to the thought, but out of pure obedience she joined an organization that would be going to teach in Asia. She thought funding for the trip would keep her from going, but the training costs were miraculously paid for.
She prepared for the trip with trepidation and arrived in Beijing feeling fearful and worried.
"I did not have a passion burning," McCarthy said. "I did not have a heartfelt desire. I was scared to death."
However, she said the moment she stepped on Chinese soil, God took her fears away. She said she believes God turned her worry to love for the land and people, and she was forever changed.
She told OBU students about her challenging experiences teaching at a Chinese university. She shared how she dealt with a controlling and cruel dorm superintendent who supervised the area where she and other foreign teachers lived. Despite his cruelness, she and the other teachers knew it was their calling to love and serve him. She became close friends with him, and she was able to respond when he became very sick. She visited him at his house and talked with him about Jesus. Before he died, He assured her he had become a believer in Christ.
McCarthy said, in that minute, she was glad she had gotten on the plane to China. She realized God led her to forsake her plans and desires and follow His will for the sole purpose of sharing the Gospel.
"We might think we have ambitions," McCarthy said. "We might think we have worthwhile plans. But, in the meantime, there are 1.2 billion people that need to hear that Jesus loves them."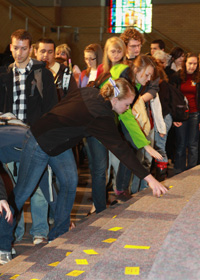 OBU students select cards indicating their fellow classmates' summer missions projects, committing to pray for them.
She urged the OBU students who have already committed to traveling on mission trips during the upcoming summer to unconditionally love those who they serve. She also pleaded with those who have decided to not go, to prayerfully reconsider their summer plans.
McCarthy quoted Matthew 28:19, which reads, "Therefore go and make disciples of all nations, baptizing them in the name of the Father and of the Son and of the Holy Spirit."
"We are in a sea of lost souls in this world, and we are to be rescuing the perishing; we are to be caring for the dying," she said.