Students Selected for National Convention Internships
April 15, 2011
OBU students Janna Smith and Rebekah Byland were recently selected to serve as interns for the 2011 Broadcast Education Association Convention April 9-13 in Las Vegas, Nev.
Smith, a junior from Seminole, Okla., and Byland, a sophomore from Shawnee, Okla., were nominated by their OBU professors for the exclusive opportunity. Internships for the convention are extremely competitive. Smith and Byland were the only two selected for internships in the nation.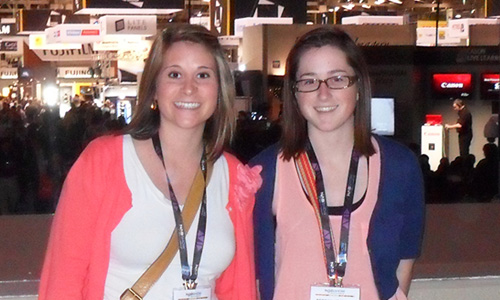 "OBU definitely is the perfect place for me in regard to my major," said Smith, an electronic media production major. "I know if I weren't at OBU, I would not have the same opportunities that I do here."
Established in 1955, the Broadcast Education Association (BEA) works to prepare college students for careers involving various forms of electronic media. The annual BEA convention attracts nearly 2,000 educators and professionals every year.
Byland said she looked forward to the many events she participated in during the convention. The various events included numerous meetings and presentations involving the advancement of technology and broadcasting, educational seminars and informational presentations about broadcast media.
The duties as interns involved monitoring panels, serving as a liaison between BEA and industry representatives and participating in the Festival of Media Arts. In addition to the valuable experience that the students gained, the convention gave the students an opportunity to build a network of contacts that might help them to get jobs in the near future.
"It's an honor to be one of the two people selected from around the country," Byland said. "I'm excited to be a part of the biggest media convention in the world."
For more information about the Broadcast Education Association, click here.