Smoke on the Mountain' Premieres April 14
April 5, 2011
OBU Theatre will present a rousing performance of the musical comedy "Smoke on the Mountain" beginning Thursday, April 14, in Craig-Dorland Theatre in Shawnee Hall on the OBU campus. Tickets are now on sale for all performances which will be presented one weekend only, April 14-17.
The year is 1938. It's Saturday night in Mount Pleasant, N.C., and the Reverend Oglethorpe has invited the Sanders Family Singers to provide an uplifting evening of singing and witnessing. The audience is invited to pull up a pew and join in the rollicking good time.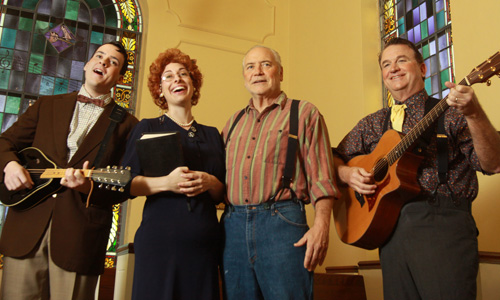 More than two dozen songs -- many of them vintage pop hymns -- and hilarious stories from the more (or less) devout Sanders provide a richly entertaining evening that has audiences of all ages clapping, singing, laughing and cheering. The play is written by Connie Ray with musical arrangements by Mike Craver and Mark Hardwick. It is presented by special arrangement with Samuel French, Inc.
"Smoke on the Mountain" will be presented April 14, 15 and 16 at 7:30 p.m., and April 16-17 during matinee performances at 2:30 p.m. Tickets are $8 for adults; $6 for students; $5 for children up to age 12; and group rates are available.
Tickets may be purchased at the OBU Box Office, located in Sarkeys Telecommunication Center, Monday-Friday, 9 a.m.-4:30 p.m., or by calling (405) 878-2347. Tickets also will be available at the door.
Cast as Pastor Mervin Oglethorpe is Jake Randolph, a senior Bible major from Goddard, Kan. Other cast members include Ken Spruiell, from Shawnee, Okla., as Burl Sanders; Katherine Wortley, a senior theatre major from Fort Smith, Ark., as Vera Sanders; Jack C. Hays, from Shawnee, as Stanley Sanders; Andrew Gabbert, a sophomore electronic media production major from Acworth, Ga., as Dennis Sanders; Joy Fait, a junior theatre major from Arvada, Colo., as Denise Sanders; JemiJean Jones, a junior theatre and family life major from Del City, Okla., as June Sanders; Deana Chesser, from Shawnee, as Miss Maude; and Nancy Cook-Senn, from Shawnee, as Miss Myrtle.
The play is directed by Dr. Joyce Spivey Aldridge, associate professor of theatre at OBU, with musical direction by Dr. Lee Hinson, associate professor of music and coordinator of the Church Music Department. The band includes Sherri Thompson, John McWilliams, Janis Lindsay and Wayne Cantwell.
For more information about the performance, contact OBU Theatre at (405) 878-2347.