Smoke on the Mountain' Debuts April 14
April 11, 2011
The musical comedy "Smoke on the Mountain" will debut by OBU Theatre on Thursday, April 14, in Craig-Dorland Theatre in Shawnee Hall on the OBU campus. Tickets are now on sale for all performances which will be presented one weekend only, April 14-17.
The community is invited to attend the uplifting evening of singing and witnessing hosted by Reverend Oglethorpe and the Sanders Family Singers in Mount Pleasant, N.C., in 1938. Audiences of all ages will be clapping, singing, laughing and cheering during the production.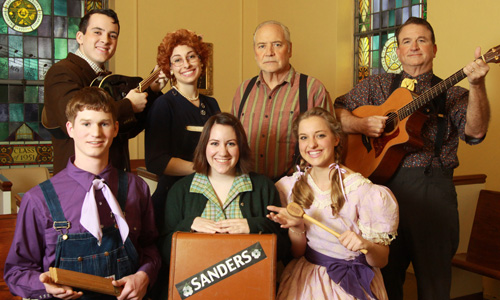 "Smoke on the Mountain" will be presented April 14, 15 and 16 at 7:30 p.m., and April 16-17 during matinee performances at 2:30 p.m. Tickets are $8 for adults; $6 for students; $5 for children up to age 12; and group rates are available.
Tickets may be purchased at the OBU Box Office, located in Sarkeys Telecommunication Center, Monday-Friday, 9 a.m.-4:30 p.m., or by calling (405) 878-2347. Tickets also will be available at the door.
For more information about the performance, contact OBU Theatre at (405) 878-2347.