Myers Receives Oklahoma Book Award for Poetry
April 14, 2011
Dr. Benjamin Myers, associate professor of English at OBU, received the 2011 Oklahoma Book Award for Poetry for his book, "Elegy for Trains." The honor was presented Saturday, April 9.
The prestigious award is given annually to books by Oklahoman authors or about Oklahoma in five categories: poetry, design/illustration, children/young adult, non-fiction and fiction.
Myers poetry is intimately connected to the landscape of Oklahoma.
"These meditative poems range from the rural to the urban, the past to the present, from gain to inevitable loss, and the universal to the personal - all with the ease of grace," said Oklahoma Book Award winner Carl Sennhenn.
The award is sponsored by the Oklahoma Center for the Book, a state affiliate of the Center for the Book in the Library of Congress. The center is organized to focus attention on the vital role of books and reading in Oklahomans' lives. The Center promotes the past, current and future works of Oklahoma authors; promotes the literary heritage of the state; and encourages reading for pleasure by Oklahomans of all ages.
Past winners in poetry include Poet Laureate of Oklahoma Jim Barnes, N. Scott Momaday, Joy Harjo and Leanne Howe.
Myers earned his bachelor's degree from University of the Ozarks, and his master's degree and Ph.D. in English literature from Washington University in St. Louis. His poems have appeared in numerous literary journals, including Ruminate, The Mid-America Poetry Review, Möbius, and Byline. His poem "A Small Town Mourns its First Casualty" was included in the illustrated anthology for children, "America at War," edited by Lee Bennett Hopkins and published by McElderry Books (NY, 2008).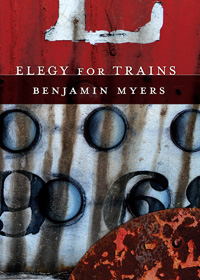 Myers won the 1996 Byline Literary Award for Poetry for his poem, "For Jack Kerouac." He has studied in select poetry workshops under B.H. Fairchild, Ellen Kort, Michael Harper and Yusef Komunyakka. His essays on poetry have appeared in several prestigious academic journals, including English Literary History, Studies in Philology, English Literary Renaissance and The South-Central Review. He has made presentations on poetry at conferences ranging from the South West Conference on Christianity and Literature at Houston Baptist University to the Ninth International Symposium on John Milton at University College of London.
Myers lives in Chandler, Okla., with his wife and three children.
"Elegy for Trains" is available in paperback for $15 through the publisher at villagebookspress@yahoo.com and on Amazon.
For more information about the 2011 books and winners, click here.