Twelve Receive Graduate School Degrees
March 9, 2011
Twelve students celebrated the completion of master's degree studies through the OBU Graduate School during a Commencement ceremony Saturday, March 5, in OBU's Raley Chapel.

Graduates receiving master of business administration degrees included: Cameron Crane of Shawnee, Okla.; Cameron Dunn of Paris, Texas; and Bo Jim Ross, David Sisco and Juliann Strange, all of Oklahoma City.

A luncheon for the business graduates featured remarks from Dr. Stan Norman, OBU provost and executive vice president for campus life, and remarks from Dr. David Houghton, dean of the university's Paul Dickinson School of Business. Gene King, associate director and chief marketing officerof the OBU Graduate School, hosted the luncheon.

"You have chosen a degree well," Norman said. "With the education you have received, you have the capacity to enter any facet or realm of life and make a profound contribution and a meaningful impact.

"God made us to pour our lives out in service to others," he continued. "We are most satisfied and most happy in life when we are pouring ourselves out for the benefit of other people."


Graduates receiving master of science degrees in nursing included: Sheila Blalock of Jones, Okla.; Cheryl Gilbert of Edmond, Okla.; Megan Gregg of Tulsa, Okla., who received her bachelor's degree from OBU in 2004; Nichole Jackson of Edmond, Okla., who received her bachelor's degree from OBU in 2007; Gail Livengood of Pryor, Okla.; Shayla Spriggs of Spencer, Okla.; and Donna Urbassik of Norman, Okla., who received her bachelor's degree from OBU in 2008.
Graduates earning master of science degrees in nursing were honored during a pinning ceremony and luncheon in the Mabee Suite in Noble Complex. The nursing graduates received a unique pin specifically designed for OBU MSN graduates during a luncheon hosted by OBU President David W. Whitlock. The pins were presented by Dr. Lana Bolhouse, dean of the school of nursing; Dr. Claudine Dickey, director of residency programs; and Dr. Robbie Henson, professor of nursing.

Whitlock told the MSN graduates that the OBU Graduate School not only prepares people for a career in their chosen discipline, but also prepares them with a biblical worldview. He said nursing education provides an ample opportunity to integrate faith and knowledge.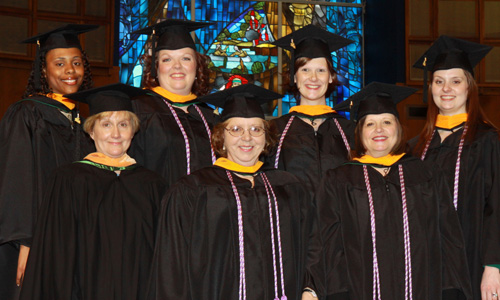 "I'm convinced real ministry is meeting people at their need," Whitlock said. "I can't imagine a more appropriate place than in nursing."

The Commencement address was presented by Travis Pickens, ethics counsel for the Oklahoma Bar Association. Pickens, who has served as an adjunct professor of commercial law at the OBU Graduate School, was named as an honoree for the 2010 Leadership in Law award, honoring Oklahoma's outstanding leaders.



Pickens urged the graduates to recognize the value of their education, especially during a time of economic struggle. He said they join an elite group of less than 8 percent of the United States population who obtain a graduate degree, setting a foundation for future success in employment and leadership.

"But today means more than simply a credential," Pickens said. "What you should remember above all else is not simply what you have earned, but more importantly, what you now know you are capable of doing, both now and in the future. Obtaining this degree proves without any doubt that you have the abilities and intellect to not only survive any economic downturn, but to eventually thrive and prosper."

Pickens told the graduates they are now poised to lead their peers in business and medicine. He encouraged each graduate to consider how they can best use their degree in a purposeful life, noting people who have a purpose live longer. He said it is important the graduates pause to consider both what they have accomplished and what they will do in the future.

"You have chosen two of the greatest professions: business and medicine," he said. "In each of these are stunning examples of men and women in both professions who lived purposeful lives that were more than successful -- they were significant. And I urge and challenge you to live a life of significance, not simply success."

Pickens said financial success will come to some people, but significance can come to all who are willing to make the most of the opportunities afforded to them.

In his charge to the graduates, Whitlock reminded them they have the distinction of representing OBU.

"You've studied at an institution that has sought to stand for Christian distinctiveness and academic excellence since its founding 101 years ago," Whitlock said. "We've sought to instill within you an honest awareness of yourself and the world around you. We've sought to strengthen your commitment to Christ. We've sought to equip you with the ability to think and with a knowledge base that provides content for sound decision-making. We've sought to impart to you the heart to care, the spirit to attempt great things that will make your world a better place. You are recipients of a rich heritage."