Trustees Approve Budget, Capital Campaign
March 5, 2011
During their spring semester meeting on campus March 4, OBU trustees ratified a $47.69 million operating budget for the 2011-12 year, and approved launching of a new capital campaign for the 101-year-old institution.

Randy L. Smith, OBU executive vice president for business and administrative services, said the new operating budget will include a projected distribution of $16.21 million in scholarships for the 2011-12 academic year, an increase of nearly $3.2 million over the 2010-11 distribution.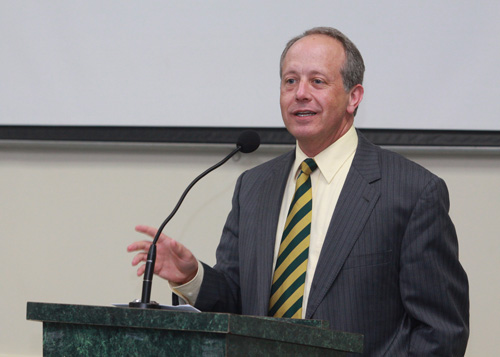 The 2011-12 budget includes a two percent Cost-Of-Living Adjustment for all OBU faculty and staff members, and continued improvement on the university's salary and wage structure for OBU personnel.
Trustees unanimously approved the university's plans for launching a new capital campaign, titled "OBU 2020: Vision for a New Century." With a $40 million goal, the three-year campaign will address capital needs including construction and renovation of academic and housing facilities, and increasing the university's endowment.
"In meeting with OBU's leadership, we have caught the vision of making this campaign succeed over the next three years," said Dr. Bill Ford, president of Shawnee Milling Co. and chair of the board's university advancement committee.
In his state-of-the-university report to the board, OBU President David W. Whitlock noted several new initiatives, including a Learning Communities program which was launched in the fall 2010 semester. The four initial learning communities consist of approximately 16 freshman students each. The students attend blocks of classes together and participate in a variety of group activities.
"We are taking steps through energized Learning Communities and strengthened advising processes to build on our historic success in academic preparation," Dr. Whitlock said. "We also are finding new ways for students to apply their learning in 'real world' settings. Local ministry teams serve throughout the fall and spring semesters in the Shawnee area and in Oklahoma City.
"At the same time, our Global Outreach teams are touching lives around the world," Whitlock said. "During January we had teams in Dubai, South Asia and Peru. Dr. Alan Bandy led a team of students in Peru who journeyed to remote villages which had never had the Gospel shared. This is on the same continent where Jim Elliot and Nate Saint died taking the Good News to those who had not heard. OBU students from small towns in Oklahoma, nurtured by Oklahoma Baptists and challenged by godly professors, are pioneers in global evangelism. We have been a launching pad for global missions for a century, and our effectiveness in equipping students for ministry is, by God's grace, expanding daily."
In other action, board members approved senior faculty status for five faculty members, allowing continuous contracts for those educators. The faculty approved were Dr. Andrew Armond, assistant professor of English; Dr. Canaan Crane, assistant professor of psychology; Dr. Michael Dean, assistant professor of piano; Dr. Lee Hinson, associate professor of church music; and Dr. Nathan Malmberg, assistant professor of biochemistry.
Trustees approved the contract of a new faculty member, Dr. Renita Murimi, assistant professor of computer information science, who joined the faculty at the start of the spring 2011 semester.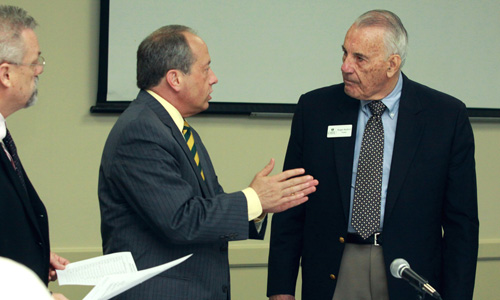 The trustees elected Scott Neighbors as vice chair of the board, filling the role previously filled by Dr. Alan Day. Day, longtime pastor of the First Baptist Church of Edmond, was killed in a motorcycle accident on Feb. 16, 2011. Neighbors, pastor of worship and discipleship at the First Baptist Church of Skiatook, had served as the board's secretary for the 2010-11 year. Trustees elected Dr. Todd Fisher, pastor of Immanuel Baptist Church in Shawnee, to fill that post for the balance of the board year.
Whitlock noted Day's involvement with the university during his report to the board.
"He was a vital member of our OBU family," the president said. "Alan embraced our mission. He was passionate in helping individuals find the transforming power of Christ in their lives. He saw OBU as a powerful tool for effecting that transformation."
Dr. Reagan Bradford Sr., chair of OBU's 33-member board of trustees, moderated the board's plenary session. Bradford is a medical research physician from Oklahoma City.